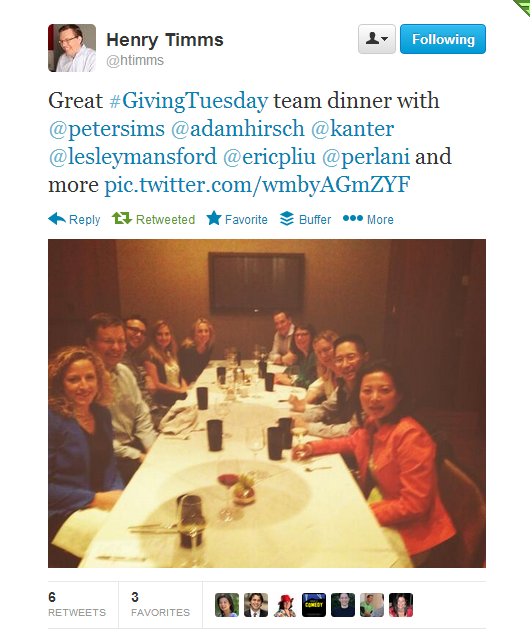 With this year's GivingTuesday less than a month away, there's lots of tips and best practices on how to leverage social media during the giving season both online and offline.  Last night,  Razoo, the social fundraising platform that is hosting a giving competition as part of Giving Tuesday hosted an event for SF nonprofits.   After the event, a small group of ambassadors for Giving Tuesday met with Henry Timms who asked for our feedback and shared some wonderful stories about how this year's giving day will be bigger and better than ever.   For example, this year several cities, like Baltimore, are launching city-wide campaigns.
Leaving the dinner, I checked my Twitter feed and started seeing tweets like this one from my colleague, Tal Frankfurt. Conan O'Brien was talking about me?
@kanter you were just on the @ConanOBrien show 🙂
— Tal Frankfurt (@cloud4good) November 8, 2013
Oh, he was joking about my red hat? What?
@bethkanter @ConanOBrien your red hat was subject of joke on #Late night Conan wore it tonight — Cathy Davidson (@CathyNDavidson) November 8, 2013

I asked my Twitter friends exactly what he said. As best as I can tell, he was complaining that he wasn't a LinkedIn Influencer and that I had more followers on him on LinkedIn and that maybe to get influence he should have a photo of himself in a red hat and shared a couple of examples.
@kanter @ConanOBrien he was looking at your LinkedIn profile and added hats to his profile based on yours.
— Tal Frankfurt (@cloud4good) November 8, 2013
Hey @bethkanter @Conan is coming after your red hat He sounds mean and jealous lol
— Cathy Davidson (@CathyNDavidson) November 8, 2013
@kanter he was talking about how you have more LinkedIn followers than him. And about your hat. 🙂 @ConanOBrien
— Karianne Stinson (@Karianne) November 8, 2013
Hate to be a snitch @kanter , but @ConanOBrien griped on his show that you are a LinkedIn influencer & he is not.(Mocked your hat)
— cathy nidoski (@deltacopywriter) November 8, 2013

And looking through the Twitter stream, Conan is trying to increase his social media influence. Here's the video clip of the segment, it's actually pretty hilarious.
RT if you're watching #CONAN & because we want to beat @realDonaldTrump's @Klout score.
— Team Coco (@TeamCoco) November 8, 2013
.@LinkedIn: The final frontier of @ConanOBrien's social media empire. Follow #Conan on this journey @ http://t.co/k3y3CwlNUj
— Team Coco (@TeamCoco) November 8, 2013

But I think Conan is going about this all wrong!
While I didn't intend it as a strategy, what I discovered is that doing online fundraisers over the past 8 years on social channels and helping others helps you gain influence.  I think Conan should stop mocking my red hat on his show, stop asking his fans to RT his tweets, and join the #GivingTuesday movement.
He should do a monologue about charity giving on GivingTuesday on his show leading up to the December 3rd event. I'd like to him camp out early at a nonprofit's door on that Tuesday morning so he could be the first or simply encourage his fans and followers to give to nonprofits on December 3rd. He'd gain even more influence!