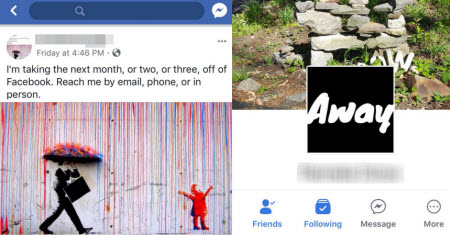 As we all know, in early January, Facebook announced some sweeping changes in the News Feed to prioritize content from friends and family and fewer updates from brands and news.  The intent as described by Zuckerberg was to encourage meaningful interaction and ensure that time on Facebook was well spent.
The changes have also prompted nonprofits to reevaluate their digital strategies and make changes in strategies and tactics. But one thing I've been noticing about my friends on Facebook, particularly nonprofit professionals, is that they are signaling that they are spending less time on Facebook. For example, my one colleague replaced her profile photo with a black and white image that states "Away."  Another announced that they were taking a few months off from Facebook.
What does the research say over Facebook usage after the News Feed changes?
When Facebook announced it fourth-quarter earnings at the end of January, it also mentioned that users were spending less on Facebook. Zuckerberg went on to say that this was a good thing. "Helping people connect is more important than maximizing the time they spend on Facebook," he said, later adding that more "meaningful interactions" are the key here. We think that that's going to be positive. We think it'll help make the community stronger over the long term, and we think it'll be good for the business over the long term."  Facebook also stated that the reasons for the decline where unclear.
Outside of Facebook's data, Edison Research and Triton Digital conduct and share results from the Infinite Dial study that examines how Americans use social media and other technology. This year's edition, according to a blog post by Jay Baer on Convince and Convert, the headline finding is:  For the first time ever, usage of Facebook went down.   Usage on Facebook across every age and gender demographic is down and down overall from 67 percent of Americans to 62 percent.  Many people, not just my colleagues, are using Facebook less.
Jay shares three plausible reasons why:
 Distrust of Facebook
 Increased discord on Facebook
 Increased disinterest with Facebook
He says the following about reason number 3:
But a third explanation is that this drop represents a natural shifting of users to other parts of the Facebook ecosystem. While Facebook's usage declines, Instagram's usage continues to march upward, as does the number of people consistently using Facebook Messenger and WhatsApp.
This may be a purposeful segmentation approach by Facebook. It's particularly true among young Americans ages 12 to 24, where Edison Research observed the largest drop in usage.
After all, one of Facebook's most attractive elements is that you can do a LOT of different things on the platform. But that's also one of its great weaknesses. Is Facebook the BEST place for video? Probably not. Is it the BEST place for photos? Probably not. Is it the BEST place for messaging? Maybe.
As Facebook usage goes down, Instagram and WhatsApp and Messenger usage go up because they offer a more tailored experience. As social media progresses, it is natural for our own usage to gravitate toward one or more platforms that offer a more specialized experience that is more relevant to what we personally enjoy best about social media. Thus, some people gravitate toward Instagram. Others, Linkedin. Others still, Snapchat.
Over the last month, there has been much advice to nonprofits about how to adjust their digital strategy. This research further confirms this advice, especially about not putting all your social media eggs in the Facebook basket and exploring other tailored experiences on social media that align with your target audience.
If you are interested in learning more about the Edison Study, there is a free webinar next week.
Are you spending less time on Facebook?  How has your nonprofit adjusted it digital strategy in light of Facebook News Feed changes?