Join me for a FREE Webinar: Training Tips that Work for Nonprofits on Jan.29th at 1:00 PM EST/10:00 AM PST. I'll be sharing my best tips and secrets for designing and delivering training for nonprofit professionals that get results. And, if you are attending NTEN's Nonprofit Technology in March, join me, John Kenyon, Andrea Barry, and Cindy Leonard for a session on designing effective technology training. All of my work these days is focused on designing and delivering effective training for nonprofits -primarily on the topics of social media, strategy, networks, and measurement.  In addition,  I'm also doing a lot of training of other trainers and am now an Adjunct Professor at the Monterey Institute for International Studies (a graduate school of Middlebury College).   So, expect to see regular reflections on good instructional design and delivery for any topic, but especially technology related.
I strongly believe that a course, workshop, panel, master class, and even a keynote that is interactive is more engaging, people pay attention, they make connections to what they already know and are far more likely to apply it.    Certain room set ups encourage interaction between the participants and the workshop leader, others do not.    The ability to "shift" delivery formats – from say an interactive lecture to small group activities helps students pay more attention.  Being able to to set up "learning stations" where students can be participate in different activities paves way for more learning because you are giving participants a choice to learn in a way that they learn best.   Research about the physical space can impact learning, can be found here.
This month I've been teaching graduate class at the Monterey Institute of International Studies based on my books, The Networked Nonprofit and Measuring the Networked Nonprofit.  The course is about how to leverage networks and social media for learning and impact.  While the primary goal is for students to learn about strategic use of networks and social media for international organizations,  I also covered some practical career skills such as effective networking and self-directed professional learning (also called "Social Learning").   The instructional design included different delivery methods:   interactive lecture  with slides and whiteboard, facilitation with sticky notes, small group exercises, posters, group discussion, self-directed activities, and self-directed online activities.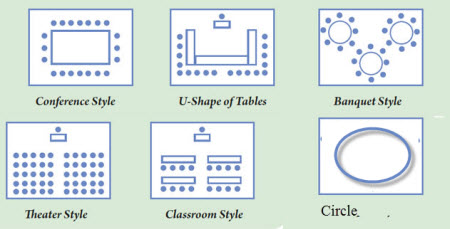 I was able to pull this off because my course took place in the Digital Learning Commons "D-Space" – a state of the art flexible classroom space.   I am not always lucky to be teaching in a classroom that is designed as a flexible space to be molded into a learning environment by the instructor guided by the instructional design.  I most often have to hack the space.   Therefore, I've spent a lot of time trying to understand how the feng shui of a classroom impacts learning.     Circles without tables, just chairs helps promote group discussion.  Classroom style with desks puts a barrier between the students and the instruction, especially when people are using laptops or tablets to take notes.   If you are trying to do an interactive lecture, it dampens interaction.


The flexible classroom is a large open space.  The desks, tables and chairs have wheels so they can be moved around easily and arranged into any desired configuration.     When I arrived in the space, it was set up in a traditional classroom configuration.   I was able to rearrange an area for viewing presentations slides and have enough space for participants to move around for full group exercises.


The classroom also had movable cabaret stools  and tables as well as movable couches and "pod" chairs that students could use while working on small group or individual exercises that were either offline activities such as a creating a strategy poster or browsing some of the examples online or reading online articles on the class wiki site.


The also had room divider screens that could be used as extra wall space to hang student work for a poster session or students could use to work on project.  Or you could use them to divide the room.  It also had a lot of open wall space.


There were a half-dozen whiteboards, but these were not fixed on the wall – they also had wheels.  I used this a variety of ways: whiteboard interactive lecture and brainstorm; sticky note exercise; and student work space.


When I design instruction,  I want to make sure that learning activities use four different kinds of activities that help the brain learn rapidly.   The model is called "SAVI" :
Moving and doing (Somatic)
Talking and hearing (Auditory)
Observing and picturing (Visual)
Problem-solving and reflecting (Intellectual)
For many of these, you need materials like sticky notes, markers, paper, pipe cleaner, and maybe even play dough.  I always bring a suitcase with me of supplies, but this flexible classroom came equipped with the best supply cabinet (also on wheels.)


There was also enough flexibility in the space to have a staging area for supplies which saves a lot of time.
The physical space where you deliver your training is just one piece of the instructional design puzzle.  You have to design a variety of activities and you need to think about how the space can accommodate them.   Logistics are not separate from the learning design – so think carefully about the supplies, materials, and audio visual needs and how they can support the learning.
What is your experience in designing and delivering different trainings in different types of configurations?  Have you facilitated a training in a flexible space?  How did you use it creatively to enhance learning?