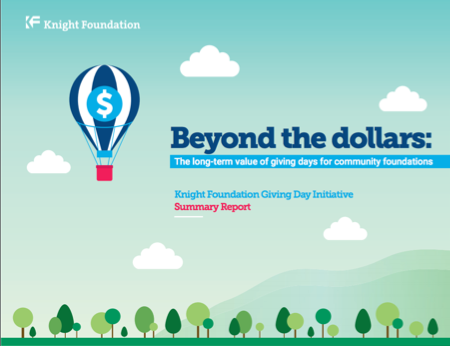 For the past three years,  I have had the honor of serving as the facilitator for the Knight Foundation Peer Learning Exchange for the Giving Day Initiative.    Today, the Foundation has released a new report: "Beyond the Dollars: The Long-Term Value of Giving Days for Community Foundations," written by Third Plateau Social Impact Strategies.  The findings of the report will be discussed during a virtual roundtable, Beyond the Dollars: Giving Days & Digital Data, in partnership with Markets For Good, at 1 p.m. ET Sept. 1.
As part of the report release,  I wrote this guest post on the Knight Foundation blog called "In Wake of Giving Day Tech Failure, Here's What We Have Learned," and sharing here on my blog.
The tech failure that disrupted the national Give Local America Day fundraising campaign in May 2016 raised a big question for community foundations hosting giving days:  What can they do differently to ensure smooth sailing in the future?
To answer, Giving Day hosts turned to each other through Knight Foundation's Peer Learning Exchange and Facebook Group, and participated in conference calls organized by Priscilla Enriquez, Chief Giving Officer of the Sacramento Regional Community Foundation.  They sought a host of answers. Even while some communities reached or exceeded  their Give Local America goals, they searched for ways to address administrative messes, their own technical reviews, in addition to ways to rebuild trust with their community.
For its part, Kimbia, the tech platform for Give Local America, conducted a forensic analysis of its system.  Although the full report was not released publically, Kimbia shared a summary with Give Local America participants.   According to a recent article in the Chronicle of Philanthropy, the problems were both internal to Kimbia's hardware and code testing as well as some issues with third-party database host.
Through conversations amongst themselves and with their tech providers, the foundations have developed some new practices for future giving days:
Conduct "Table Top" crisis planning exercises and develop a plan
 Giving Day hosts are using "Table Top Crisis Planning," an interactive exercise that allows them to look at the first 72 hours of a response to a disaster and brainstorm innovative ways to address it.  Participants identify a list of all the potential scenarios that could disrupt a giving day, rank them according to probability, identify action steps and assign responsibility.
Dana Rinderknect, Director of Online Giving for Colorado Gives  has gone through the exercise. "Our corporate partner, First Bank, does this sort of planning all the time. They facilitated our entire staff through the exercise."   Rinderknect described their crisis scenario planning in detail here.
Carol Goglia, director of marketing and communications for Communities Foundation of Texas,  which hosts an annual giving day in September, identified many non-technical scenarios.  "It could be a tornado or a medical emergency during one of the many public events we host during the day."  And while unlikely, Goglia says the foundation has action steps for scenarios like a disease outbreak (not completely far-fetched as the U.S. hospital that took care of Ebola patients is in their community),  a mass shooting or terrorist attack.   While these potential scenarios may not take place, the point is to be like the Boy Scouts: prepared for anything.
Have your technology crisis communication messaging ready
 GiveMN  learned the importance of having a crisis plan during a catastrophic technical glitch in 2013. "We have all our messaging ready to go for any emergency so we don't have to create messaging from scratch. We just have to revise it and get it out," says Tom Zimmerman, the group's marketing and communications manager.
GivenMn has taken an idea from Google's playbook and created a status page that identifies 15 different site features and states whether they are working.  They have trained their front line staff to refer nonprofits and donors to the page and go through a series of diagnostics to determine if the technical problem is system-wide or for just one user.
GiveMN also sends an email the day before the event to local nonprofits about being prepared in the event of any crisis.  The group requests that local nonprofits wait until they hear from GiveMN before blasting out information to their audiences if a major event occurs.  This helps to avoid miscommunications and misinformation.
Goglia emphasizes proactive communications with the local nonprofit community. The Community Foundation of North Texas has communications protocols in place about what they will do if the site is down for 15 minutes, 30 minutes, etc.  Goglia's community foundation also keeps a back-up copy of its contact database off-site should there also be a problem with their internal servers or Internet service that prevents them from communicating.    
Do your technology due diligence
 As giving days have become vital community fundraising events, the technology to support the events has become mission critical.  As such, giving day hosts must practice technology due diligence, by conducting an independent review.
Jake Blumberg, executive director of GiveMN, says that his organization works with a third-party vendor that does "load testing" on the server in the days and weeks prior to the event. This helps them identify potential weak spots and take precautionary measures in close coordination with GiveMN's giving day technology vendor, Kimbia.  Says Blumberg: "Having a second opinion gives us more confidence that we won't have to activate our crisis communications because of a technology glitch."
Christopher Whitlatch, of the Pittsburgh Foundation, describes his organization's approach to demystifying technology vendor selection choices.   He has developed a technology platform evaluation tool organizations can use to analyze and compare several platforms.   The areas include:  corporate stability, features and benefits, hosting architecture, capacity, pricing and policies.
Whitlatch advises talking with peer organizations about their experience, both good and bad with particular technology platform. "Together, we can build a comfort level with technology and steward the growth of online giving for our nonprofits and our communities," Whitlatch says.
Looking Ahead
The silver lining of this tech failure is that it provided a platform for learning, both amongst foundations as described above, and also with sector-wide insights during this Markets for Good hosted Virtual Roundtable  series, which will continue on Sept. 1 with another session on data and giving days.
Says Lori Finch, VP of community giving at Kimbia: "The events of Give Local America this year most certainly opened our eyes."  In a word, Finch says Kimbia and the sector learned the importance of preparedness. "The event identified gaps in our processes that we thought we had covered, but didn't."   In addition, like community foundations hosting Giving Days, Kimbia has strengthened its crisis communications plan and is helping clients do the same.
Preparedness was also central theme when Kimbia and other technology vendors discussed technology platforms for Giving Days on Markets for Good Virtual Roundtable.   The credo for nonprofits, giving day hosts, and technology platform alike is prevent, mitigate, learn and share. The reward is deeper community engagement and democratizing philanthropy.
Today, the Foundation has released a new report: "Beyond the Dollars: The Long-Term Value of Giving Days for Community Foundations," written by Third Plateau Social Impact Strategies.  The findings of the report will be discussed during a virtual roundtable, Beyond the Dollars: Giving Days & Digital Data, in partnership with Markets For Good, at 1 p.m. ET Sept. 1.