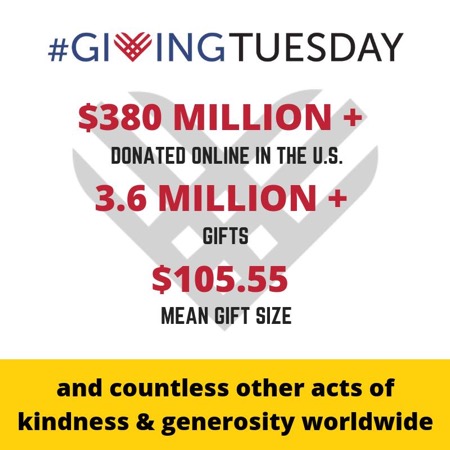 The results for this week's GivingTuesday 2018 have been reported.  According to the GivingTuesday press release:
On the seventh annual #GivingTuesday, individuals, civic coalitions, non-profit organizations, schools, and businesses in all 50 states raised over $380 million online in the United States alone (with results still coming in) to benefit a broad range of causes, and gave much more in volunteer hours, donations of food and clothing, and acts of kindness. The total number of donations reported is approaching 4 million, a 45-percent jump compared to 2017, marking the most successful year yet in terms of giving. The mean gift size was $105.
According to MarketWatch,  the grassroots web-based global movement past $1 billion in total online donations since it was launched seven years ago by the 92nd Street Y in New York City.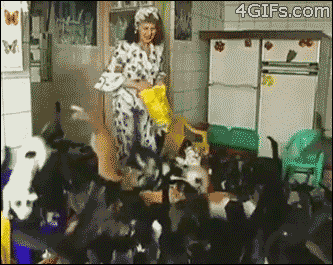 People contributed more than $125 million on Facebook, up from $45 million in 2017, using the network's new fundraising tools.  
Facebook and PayPal together offered a $7 million match for Giving Tuesday donations and saw that match gobbled up "within seconds" after 8 a.m. Eastern time, according to a Facebook spokesperson reported in the Chronicle of Philanthropy.
Last year, Facebook and the Gates Foundation offered $2 million match that was also reached quickly according to the Nonprofit Times.
No doubt this was disappointing to a number of nonprofit fundraisers, especially those on the West Coast who had to get up early!   Lots of complaining from insiders.
Here's where that silly cat gif comes in.  Why did they release $7 million match all at once?  Rather than a big boom at the when the clock strikes, disperse it throughout the day.   We know from the early online giving contests that making nonprofits play the hunger games isn't the best way, buy neither is the big boom of a big match dispersed all at once.
Why can't Facebook use AI and algorithms to disperse the money in a equitable way?  Maybe learn from local Giving Days that offer match incentives as "power hours" or "golden tickets" and have the match money given out in drops versus a big boom at the beginning.
Aside from that there were a few examples of using the next wave of technology tools for philanthropic purposes.  Amazon has made it easier for consumers to give presents to children in need by simply saying, "Alexa, donate to Toys for Tots." Alexa will then recommend a gift from Toys for Tots' curated list and after the order is confirmed, Amazon will match each donation toy for toy.   In addition, Facebook launched a  giving in its live gaming streams in Facebook Gaming and donations via crypto currency.
Raising money isn't the total point of GivingTuesday, there are also many other creative ways that charities, businesses and individuals participated in the day.  One of my favorites: #GivingTuesday in Ukraine, launched a new curriculum in over 200 schools that teaches students across the country about kindness, generosity and giving.
There was the predictable backlash from nonprofit industry insiders about too much "noise." or too many emails. But others turned it into useful fundraising advice about making your Nonprofit's GivingTuesday appeal stand out and how to say thank you.
In the end, it looks like all those all unrelenting emails worked!