I'm teaching a graduate class at the Monterey Institute of International Studies based on my books, The Networked Nonprofit and Measuring the Networked Nonprofit.  The course is  about how to leverage networks and social media for learning and impact.  While the primary goal is for students to learn about strategic use of networks and social media for international organizations,  I will also be covering some practical career skills such as effective networking and self-directed professional learning (also called "Social Learning").
After completing the course, the students will be doing an internship as part of their field work, being placed in international organizations in the US and other places in the world.   They will be doing a variety of work tasks (not just social media and networks).   Not every student in my class is focused on the same policy issue. In fact the range of issues is pretty wide ranging.  It includes international trade and development, security, micro-finance, LBGT rights, renewable energy advocacy, water policy, security, human rights for indigenous people, terrorism financing, refugee protection policies and rights, law enforcement, trafficking, peace in conflict areas, and poverty reduction.  They will be placed with organizations working on policies in these areas, many part of large international networks, nonprofits, and government.
I've spent some time taking a look at various reports, studies, and International organizations and the use of networks and social media.   Here's what I learned:
[slideshare id=29791716&doc=wearesocialsguidetosocialdigitalandmobileworldwidejan2014v01-140107235800-phpapp01]
Global Social Media and Mobile Usage Studies and Internet Penetration
Every time I have taught a  social media and digital communications strategy over the past decade, I always include useful research studies about the who and how people are using these tools.  For US nonprofits, we turn to the the Pew Internet and America Life for studies and audience research about the hyper-connected. I've been curating infographics summarizing social media and social network studies of American and global audiences, but one of the best resources global social media and mobile data is We Are Social.  In 2014, it rang in the new year with a new series of its Internet data reports, which aggregate a range of statistics to help make some sense of what's happening in terms of Internet usage around the globe.
Included in this 183 page slide deck are details of how Internet penetration and social media and mobile usage is growing.    Adding up all the users in individual countries around the world, there appear to be around 2.5 billion global internet users today – roughly 35% of the world's population.   While this represents around 150 million more users than this time last year, these numbers may still be conservative. Reliable, recent data for some countries remains patchy, but the International Communications Union estimates that there are probably closer to 3 billion global internet users, with most of the difference made up by mobile-only connections.

Social channels continued to show strong growth over the past 12 months, with top social networks adding more than 135 million new users in the course of 2013.  It also appears that social media is now an engrained part of the lives of people across different demographic groups. This increased ubiquity may result in some changes to the specific demographic bases of individual platforms, but even if people's habits are changing, it appears that people are moving from one social platform to another, rather than deserting social media in its entirety.  Despite this increasing ubiquity, though, social media penetration remains unevenly distributed around the world.
As might be expected, mobile is playing an increasingly important part in the social media landscape. Facebook reports that almost three quarters of its 1.2 billion monthly active users around the world access the platform through mobile, while on any given day, almost half of its users are mobile only.   The importance of mobile is mirrored across other platforms too, with Twitter increasingly a mobile-dominated platform, and platforms like WhatsApp, WeChat and Instagram depending entirely on a mobile ecosystem.
There is much more data in this comprehensive research report and is definitely one for data nerds, but a terrific resource for a wildly diverse class of grad students who will be doing social media internships with a range of international organizations.  I've also collected infographics that summarize global data on various platforms on a pinterest board.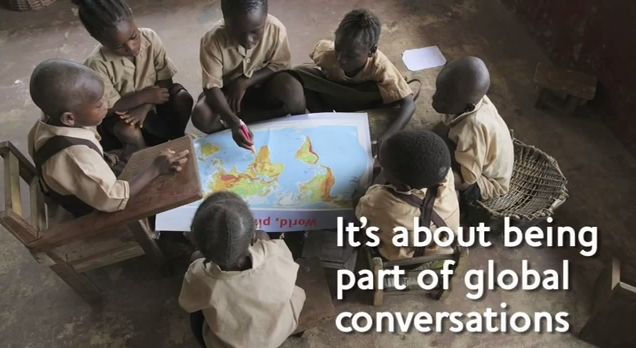 Global Conversations
The Institute for Development Studies, a nonprofit that does international development research, teaching and communications, created this YouTube video. 2013: A Year in Social Media.  It makes the point that the growth of social and digital media usage development policy research can reach more people in more areas of the world and  allows international organizations to start and inform discussions with people ranging from academics and activists to UN officials and government ministers.  Most importantly for IDS  it has helped make their policy research more accessible and become a part of the global conversation about how to end poverty, attain social justice and promote well being for all.
Benchmark Studies and Examples
In the US, there are several terrific benchmark studies of nonprofits and technology, including some on social networking but these are focused mostly on US nonprofits.     I spent some time searching for similar studies or compilations for international organizations as well as some specific examples.

Twiplomacy: This site summarizes a global study of world leaders on Twitter and links to each country of the world with statistics and highlights of users (here's Africa for example).    The governments of more than three-quarters (77.7%) of the 193 UN member countries have a presence on Twitter.   Almost half of the 505 accounts analysed are personal accounts of heads of state, heads of government and ministers of foreign affairs; a third of these world leaders tweet themselves, but very few on a regular basis.  They also produced this infographic about how World Leaders tweet.
This study shows that Twitter has become a formidable communication tool allowing the broadcast of short messages to millions of followers. At the same time the social network invites direct interaction between users and two-thirds (68%) of world leaders have made mutual connections with their peers.
U.S. President @BarackObama is still the most followed world leader on Twitter with 33,510,157 followers as of 1 July 2013 and is the fourth most popular account in the Twitterverse, just behind Lady Gaga.
Two-thirds (68%) of world leaders have established mutual connections with their peers on Twitter. Swedish Foreign Minister @CarlBildt is the best connected world leader, mutually following 44 peers.
Twitter is sometimes used by small nations to increase their global visibility and tweet on a level playing field with other nations. Several governments have recognized the power of Twitter relations, actively seeking to connect with their peers around the world. The Croatian government (@VladaRH) unilaterally follows 195 other world leaders' accounts.
All but one of the G20 governments have an official Twitter presence and seven of the G8 leaders have a personal Twitter account, however few of them are tweeting personally.
Ugandan Prime Minister @AmamaMbabazi is the most conversational world leader with 96% of his tweets being @replies to other Twitter users. The second most conversational leader is Rwanda's President @PaulKagame. Swedish Foreign Minister Carl Bildt comes third with his @fragaCarlBildt "Ask-Carl-Bildt" account, which is exclusively used for Twitter chats. On his Swedish account (@cbildt) Carl Bildt is also replying to other Twitter users in every second tweet. Ecuador President Rafael Correa and Rwanda's Foreign Minister Louise Mushikiwabo complete the top five list.
The study also analyzes how international organizations make Twitter work for them.   The study's author, Matthias Lufkens, says that the most successful organisations are those that use Twitter to make connections and tell stories, not just broadcast news.   For example, the UN Refugee Agency,  encourages all field officers to tell the stories of the refugees they are working with as this recent tweet from Syria illustrates.
MT @atikaCNN Filming Syrian refugees crossing into Jordan safely – thanks @and_harper, @refugees + Jordan military pic.twitter.com/xMRJHR3xen
— UN Refugee Agency (@Refugees) January 13, 2014
The International Fund for Agricultural Development uses Twitter talk about smallholder farmers and rural development issues, topics often overlooked by mainstream media. It's also allowed them to find a new audience that are not as familiar with their policy issues.  They do this in addition to their primary audience of policymakers. Twitter is now a primary news channel for a number of international organizations.  When the European Organisation for Nuclear Research (CERN) discovered the Higgs boson, also known as the "God particle," it announced this major science discovery via Twitter.
#CMS: "we have observed a new boson with a mass of 125.3 ± 0.6 GeV at 4.9 sigma significance." Thunderous applause. #Higgs #ICHEP2012
— CERN (@CERN) July 4, 2012

Another  example, the  World Health Organisation (@WHO) shares news via its Twitter account even before press releases.  Since many  journalists, academics and public health specialists use Twitter for a source of information about the topics they are covering, International organizations use Twitter as part of their strategy to reach these target audiences. But they balance news with engagement.  For example on World Toilet Day,  the organization asked followers to send pictures of their toilets and share the hashtag.   The engagement got a lot of responses and WHO retweeted many of the pictures with the intent to  fostered an understanding of what not having a toilet means.
@WHO And here's a picture of a very happy lad, Mithu, in Bangladesh, proud of his improved pit latrine. #toilets4all pic.twitter.com/AlMaxiwR14 — WaterAid UK (@WaterAidUK) November 19, 2013
Citizen Digital Engagement in Policy Discussions and Action
With expanding global Internet access and social media and mobile usage penetration, it paves the way for open projects that encourage citizen digital engagement and action.  Here's a few examples: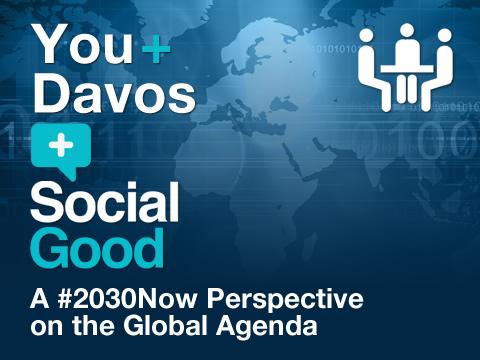 The UN Foundation is hosting a day long digital event on the +SocialGood community platform that will invite experts, leaders, innovators, and civil society to engage in a one-day global conversation prior to Davos on social media channels.  Using the theme of #2030Now, these 30 minute twitter chats, G+ hangouts and Facebook chats will allow people to offer concrete ideas about advancement being made as we collectively power global progress over the next 15 years — including how we can effectively support the next set of global development goals and create sustainable solutions by looking towards the world we want in 2030.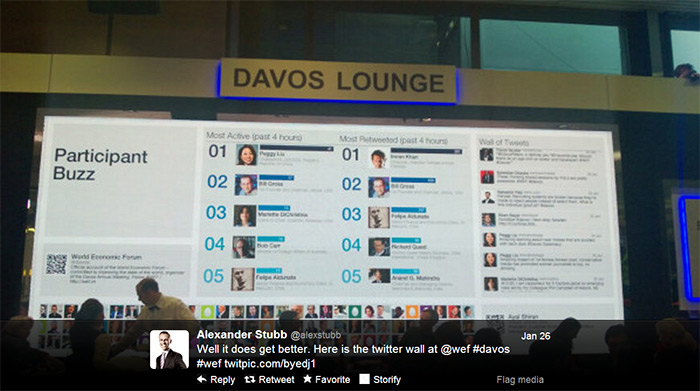 Using a "Twitter Wall" where tweets using a meeting hashtag are projected on the wall is also becoming more standard practice at global policy meetings and gatherings like Davos.
The UNFoundation supports many highly effective digital campaigns with social media integration on development policy issues and with partners around the world.    These are not one-way broadcast campaigns, but designed to encourage citizen interaction and participation around policy issues and reach new audiences.




Girl Up gives American girls the opportunity to channel their energy and compassion to raise awareness and funds for programs of the United Nations that help some of the world's hardest-to-reach adolescent girls.  Through Girl Up's support, girls have the opportunity to become educated, healthy, safe, counted and positioned to be the next generation of leaders. Campaign supporters are encouraged to give a "High Five" to girls in developing countries by donating $5 or more to provide girls with such basic needs as access to school supplies, clean water, life-saving health services, safety from violence and more.



The campaign has an offline component, encouraging the audience to set up "Girl Up Clubs" where some of the activities include connecting and having conversations with girls clubs in different parts of the world.
.@CFR_org's new interactive InfoGuide covers #ChildMarriage around the world: http://t.co/EFAIMEljed pic.twitter.com/QVt7vY54DI — Girl Up (@GirlUp) January 8, 2014

Girlup uses its social media channels to engage its audience about policy initiatives to support girls around the globe.   (Flickr; Blog; Facebook; Twitter; Youtube and others)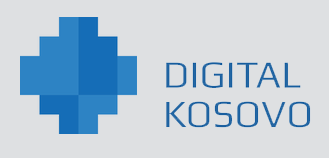 The primary objective of the Digital Kosovo is to advance Kosovo's position in digital world and assist the citizens of Kosovo to overcome virtual barriers in web portals around the world.   The platform helps integrate Kosovo into the digital landscape.  This initiative helps overcome the virtual barriers which currently exist by encouraging a range of Internet properties from shopping websites to travel to add Kosovo to their sites.  Using Digital Kosovo advances Kosovo's digital presence across major websites around the world, so that citizen's of Kosovo can take advantage of all the Internet has to offer in the same way as all global citizens.  Digital Kosovo is a new initiative being delivered by IPKO Foundation, with the support of the Republic of Kosovo Ministry of Foreign Affairs, British Council and the Norwegian Embassy.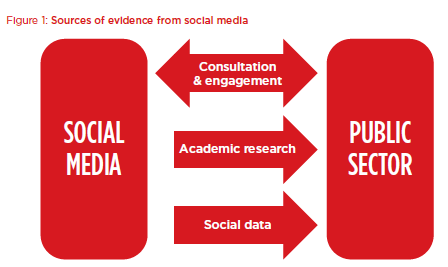 Social Media Data and Public Policy
Social Media generates a lot of data or what some have called "ambient social data."   Given that a lot of international organizations work on policy research, can social data be a useful source of data to inform policy research?
This is the whole topic of a research report called "Social Media and Public Policy" from the Alliance for Useful Evidence.   This report looks at the question:  Can the myriad of human connections and interactions on the web provide insight to enable government to develop better policy,understand its subsequent impact and inform the many different organizations that deliver public services?  The report is based on an evaluation of available literature and interviews with 25 experts  from a number of disciplines.     Given that developments in this field are at in the embryonic stage, the report provides some helpful  signposts  rather than definitive answers.
Key findings:
Social media presents a growing body of evidence that can inform social and economic policy. It has value for government, the policy community and public service delivery organisations.
It offers a nascent but rapidly growing opportunity to overhaul and significantly enhance the process by which government understands society and the impact of its policies.
The methodology, tools and processes required to generate evidence from social media that is robust enough for policy making are not currently available, but are realisable in the near–term.
Evidence drawn from social media becomes useful and far more powerful when matched with other data sources. Other data sources also enable the corroboration and verification of social media data.
Many of the techniques required to develop new socio–economic metrics drawing on social data are being pioneered by international development agencies, with citizen–led initiatives playing a pivotal role.
The report shares several case studies and includes an addendum listing many projects.   There a case study on UN Global Pulse one of the most notable examples,  an innovation initiative launched by the Executive Office of the United Nations Secretary-General, in response to the need for more timely information to track and monitor the impacts of global and local socio-economic crises. The Global Pulse initiative is exploring how new, digital data sources and real-time analytics technologies can help policymakers understand human well-being and emerging vulnerabilities in real-time, in order to better protect populations from shocks.  The initiative was established based on a recognition that digital data offers the opportunity to gain a better understanding of changes in human well-being, and to get real-time feedback on how well policy responses are working. The overarching objective of Global Pulse is to mainstream the use of data mining and real-time data analytics into development organizations and communities of practice.
There are many labs working on projects.  One recent project is a real-time analysis and data visualization of the post2015 conversation on Twitter.  Global Pulse partnered with the UN Millennium Campaign on a project that aims to shed insight on which Post-2015 relevant topics are talked most about by people on social media around the world.   In addition to surveying people directly and asking them to rank priorities, one can also pay attention to what people say about what's on their minds right now.  For this purpose, social media data is a great source of real-time information.   By searching approximately 500 million new posts on Twitter every day for tweets relevant to 16 key development topics, it is possible to see which topics are most talked about in different countries at different times. Through a collaboration with DataSift,  Global Pulse is able to search for approximately 25,000 keywords in English, French, Spanish, and Portuguese, yielding around 10 million new tweets each month.

The interactive visualization shows the 20 countries that have proportionately tweeted the most about each topic over the past 6 months. The percentages show the volume of tweets that were generated in that country about the highlighted topic, in comparison to tweets about all the other topics.
With social media use and penetration at a higher level than ever,  the integration of social media channels for International organizations to use to distribute policy news and research, engagement in conversations around those issues to encourage action, reach new audiences, and begin to use social data for policy research are real.     These are but a few of the many examples of how International Organizations are making social media work for them.    And, you have a great opportunity to learn more about international organizations work from policy experts today for this Twitter chat hosted by the UnFoundation  in advance of Davos.