Love this! RT @CMLoNigro: .@HelenClarkUNDP now taking questions on #post2015 – use #2030Now in your tweets! pic.twitter.com/W25OihgjEz #WEF
— Caleb Tiller (@CMTiller) January 14, 2014
As global attention turns to the World Economic Forum in Davos later this January, the +SocialGood community invited experts, leaders, innovators, UN and government representatives, and civil society and people like me– to participate in a one-day global conversation on social media channels yesterday,  January 14, 2014.    With one week less to go before Davis, the goal of this online convening was to raise awareness, drive action and share best practices about the global policy agenda.  There were  eight hours of  online conversation through channels like Twitter and Google Hangouts where you could ask questions of world leaders about some of the most pressing challenges facing the globe today and they will talk about next week at WEF.   I listened in to a Twitter chat with Helen Clark, head of UNDP, answer questions about the  Millennium Development Goals, including the overarching goal of cutting poverty in half by 2015.  UNDP's network links and coordinates global and national efforts to reach these Goals.

Helen Clark has embraced the power of online networks and integrated social media to drive news and engagement around these important goals.  According to Twiplomacy study of how International Organizations use Twitter,  Helen Clark of UNDP is one of the most conversational heads of international organizations on Twitter.
Tweet behind the scene pictures, no handshakes please pic.twitter.com/SJB3MXDmGR #TwitterTips — Twiplomacy (@Twiplomacy) January 1, 2014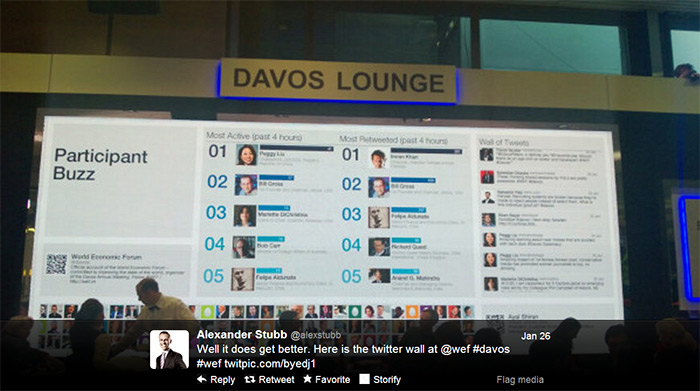 Nonprofit CEOs, World Leaders, and others see social as an important engagement channel. Use of social media to discuss the world's most pressing problems has move from under the table, onto the wall, and now with yesterday's online event engaged many new voices.