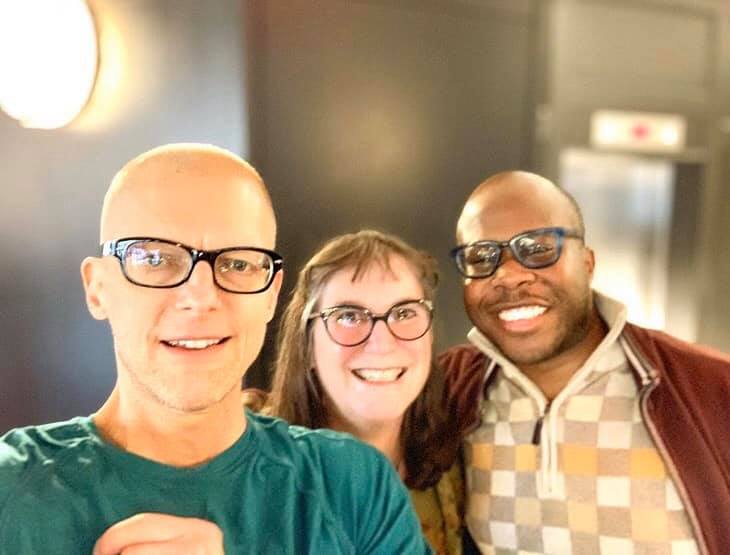 The nonprofit tech & marketing world has lost one of its legends, John Haydon, from cancer.  If you do any work on digital strategy for nonprofits, you most likely knew John's work and influenced by it.  I had the honor of knowing John for more than 12 years and working with him – he also did the graphics design for my first Facebook Page.
He was loved by so many of us in the field.  When he was diagnosed with a very rare and deadly form of cancer in 2017, he created a private Facebook Group called "Watch John Beat Cancer."  He kept us updated and constantly inspired with his positive attitude.  The community provided support, love, and fun.
As a Buddhist, he bravely faced his deadly disease head-on, sharing his wisdom about living life to its fullest.  A week or so before he died, he did a podcast with Chris Brogan discussing facing death. It is a must listen for everyone and anyone who is facing a terminal diagnosis or is caring for a loved one.
The photo from is my October visit with him, a few months before he died. Meico Marquette Whitlock and I took a long walk with him in Boston. John was walking to almost the end, chanting, and sharing his experience.
He passed with the rising of the snow moon, full moon, super moon.  A special celestial event.  We will all miss him and a great loss to the nonprofit marketing field.
John never stopped being productive, even at the end.  He was working and completed his legacy book, Donor Care. One simple way we can all honor John is to purchase some books, not only for ourselves, but to share his wisdom with others in the nonprofit marketing field.