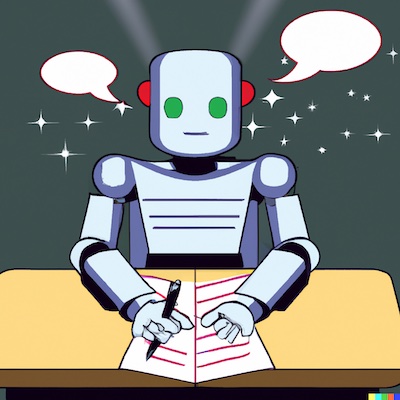 The Chronicle of Philanthropy recently published an opinion piece, "AI Can Help Nonprofits Reach More Donors But Fundraisers Can't Ignore Potential Pitfalls," a topic that Allison Fine and I have been researching and writing about since 2017. In 2019, we did a deep dive on AI & Giving to look at the landscape of fundraising tools & platforms using AI and the implications. Our next project was the research and writing of the "The Smart Nonprofit: Staying Human-Centered in an Age of Automation," a broader look at the implications on all aspects of nonprofits and philanthropy.
The article reinforces the message we've shared for years that these tools can benefit nonprofits in many ways, especially small nonprofits. This is especially true with the advancing sophistication of recently released "creator tools," (AI-infused tools that generate images, text, or videos). The article warns as we do in our book that the danger is that nonprofits will grab the software off the shelf before its limitations are understood. That is why we make a big case in our book for nonprofits to take a human-centered approach and offer a practical set of readiness steps.
When we first started publishing and presenting on Smart Tech and AI tools to audiences of fundraisers, nonprofits, and funders in the social sector field, the media narrative around AI was presented as binary. On the one hand, was the "Evil Robots Overlords" view that we will never control AI and it will control us and take over all our jobs through automation. The opposite, more utopian view was that AI was magic fairy dust and could wave a wand and solve all our problems. In reality, both of these are false narratives.
Technologists classify AI into three categories. Narrow AI (focuses on a specific task); General AI (as capable as a human); and SuperAI (more capable). For the most part, Narrow AI is what is in use today and getting better. General AI is still a laboratory experiment. And SuperAI is mostly alive and well in the plots of science fiction books and biased documentaries.
In the past six years since we started researching AI and nonprofits, we've seen the technology evolve and the price come down In the last few months, this new generation of "creator tools" such as GPTChat (text/writing) and Dalle-E for images have been available more broadly for public review and testing. And while the outputs may appear to be smarter than humans, they won't replace humans. (And never should)
According to Creator Feed Podcast, we will likely see many more creator apps and more and more creators adopt these tools.They also predict an increase in regulations and policies aimed at addressing ethical concerns – specifically around copyright and commercial use. Already, we are seeing artists protest about stolen creative property and school systems ban tools because of cheating concerns.
As people begin to use these creator tools in different fields and jobs, including fundraising as the example in the Chronicle piece illustrates, there are some benefits. As with any technology moving from emerging to mainstream phases, it takes time to become fluent and this might lead to new job requirements, skills or even jobs. It should not lead to replacing people or their jobs with the technology because to be effective these tools require human oversight.
Creator tools can redesign fundraiser and nonprofit staff jobs and reengineer workflows to enable people to focus on the parts of work that humans are particularly well-suited for, such as relationship building, intuitive decision making, empathy, creativity and problem solving. Something we call this human-centered approach "co-botting" in our book.
What if the fundraiser is fully prepared and knowledgeable about the implications of smart tech creator tools and uses the tool to generate a first draft letter to a donor. Then uses their human skills – empathy and knowledge – to revise the draft. The creative tool saves them time by writing the first draft and also allows the fundraiser to repurpose that saved time in building a deeper and better relationship with other donors in their portfolio. Or maybe not have to work overtime and embrace some work-life balance.
We call this the dividend of time in our book. If nonprofits don't look at creator and other smart tool adoptions holistically and use it as departure for improving relationships and work experience, it is a lost opportunity.
If 2023 is the year that smart tech creator tools have more widespread adoption in the nonprofit and social sector, it can make work and workplaces more fulfilling, effective, and less exhausting. But as we've been advocating for years, it requires nonprofit leaders to dig into the implications of automation and make smart, ethical choices about using tech that enhance our humanity and builds better relationships with donors and stakeholders.