"You have to show not just tell your CEO about social media"- @carolynsave "Create a tweetorial" – @kanter #afpshift pic.twitter.com/zKggoMllYB
— Ettore Rossetti (@EttoreRossetti) March 25, 2014

Last month, I participated in a keynote panel at the AFP Annual Conference in San Antonio, TX on the theme, "Social Media for Social Change" with Carolyn Miles, CEO of Save the Children, Ben Rattray, Founder of Change.Org, and Ritu Sharma and Darian Rodriguez Heyman, co-founders of Social Media for Nonprofits Conference.     It was a blast!    Carolyn, Ben, and I each did a brief presentation on the topic and then we sat down for a discussion facilitated by Darian and Ritu using questions from the several thousand people in the audience.
Here's a storify of the curated tweets, but I wanted to pull out one of the questions that came up:
"How do I get my nonprofit's CEO to pay attention to social let alone use it?"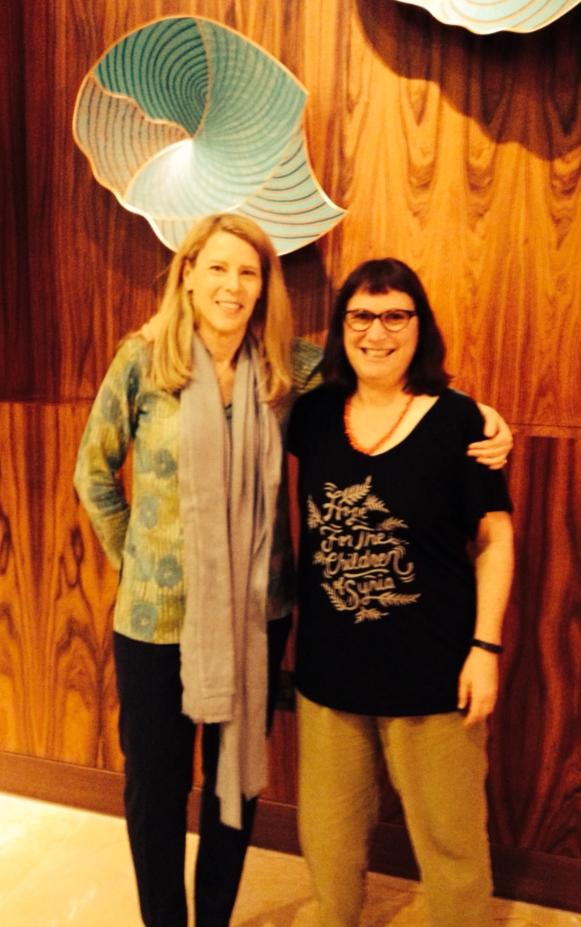 1.  Get Their Attention: "Camp outside their door."    This is the advice that Carolyn Miles of Save the Children offered.  She said that as a busy CEO, there are many things to pay attention to and she would not be using any social media if wasn't for her staff person, Ettore Rosetti, VP of Digital Marketing.   He camped outside her door and not only told her about how nonprofit CEO's were using Twitter, but showed her how easy it was.
2. Show How Social Amplifies the Work They Are Already Doing:     Now that you have got their attention, make sure you discuss how social media can amplify and enhance their current work by asking some simple, but powerful questions.  Here's a story about the CEO of the ACLU of New Jersey and how he uses Twitter to reach out to the press and policy makers and the questions he and his staff answered.   Here's another example about a nonprofit CEO (Helen Clark of UNDP) using Twitter to engage audiences about policy.
3.  Give them a "Tweetutorial": Most likely, your CEO uses a mobile phone.   Give them a "Tweetutorial" of how to use Twitter on their mobile phone and the basic commands.   Here's a collection of cheat sheets that you can use to teach any Nonprofit CEO almost any social media channel.
4.  Show Examples of Peers: Sometimes peer pressure can motivate.  Be sure to show other examples of nonprofit CEOs, preferably from similar nonprofits, using Twitter.   Here's my Ultimate List of  Lists of Nonprofit CEOs Using Social Media.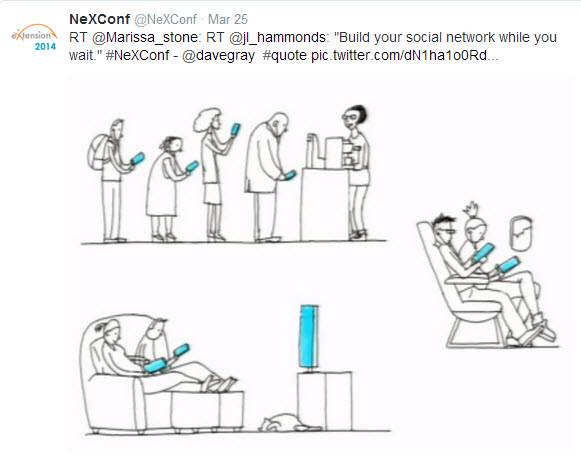 5.   Share Time-Saving Tips: Be sure to let your CEO know that using Twitter or other social media channels doesn't require hours and hours of time.  They can build their network while they wait in line for lunch or commute to work.  Here's three good tips for easy content strategies for leaders.
6.  Teach Them How To Be Twitter Literate: Your organization's brand communication strategy will complement your CEO's use of Twitter.   For them, it is about being authentic and the personal touch.   For CEOs or anyone to be successful using Twitter, they need to know how to tune the network of people they follow and how to "feed" the network of followers the best content and engagement related to your organization's work.    Get them a "Thinkup" account, an analytics tools geared for individuals that not only provides metrics, but useful tips to improve using social.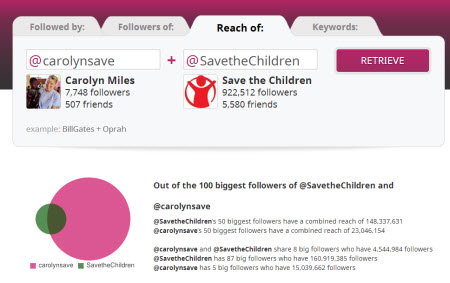 7.  Show Their Impact: After they have been using social, so how their presence is reaching a different audience.     Using a tool like Twiangulate, you can easily see the overlap of followers and reach for the CEO and the organization's branded account.  Here's an example of Save The Children and its CEO, Carolyn Miles.   As you can see, the CEO's reach is larger, although she has fewer followers than the branded account.  That's most likely because more influential  people are following the CEO!
Does your nonprofit's CEO use social media for leadership?  How?  What are the best practices to sustaining and supporting their effective of social media to support your organization's mission?