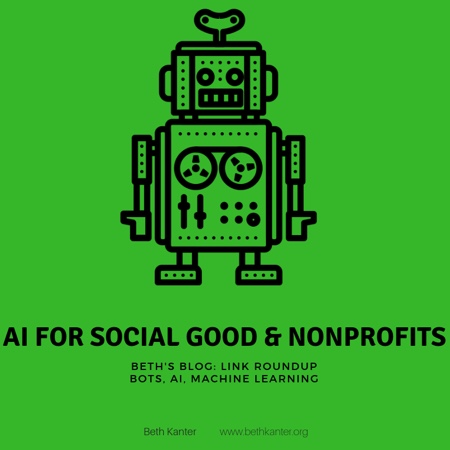 Network For Good hosted a virtual conference today called "Fundraise Like Netflix: Engaging Donors in a Subscription-Driven World," that included several hours of online presentations about strategy and tools for getting repeat donors.  What caught my interest was Adam Ruff's session called "From Manual To AI: The Past, Present and Future of Marketing Automation," as Allison Fine and I are actively researching the use of AI to scale generosity.
His informative presentation covered the continuum of automated campaigns  from "Trigger Campaigns"  to "Marketing Automation" to "AI-Driven Campaigns."  A trigger campaign uses  pre-designed emails that you want to send whenever the contact does some activity and these campaigns will keep on running continuously sending emails to new contacts that satisfy the criteria.   Marketing automation allows you identify more precise and smaller target groups to interact with and "AI-Driven Fundraising" allows you craft customized engagement or 1:1 engagement at scale.
He started with a reminder that good fundraising practices – those that focus on the donor experience, build relationships, and craft engagement based on the donor's point of view are timeless.   This quote from United Way's Brian Gallagher sums it up: "Marketing automation isn't rocket science.  It's the 21st century version I what I did years ago.  Send a paper survey to people asking what they care about, engage with them, share information they are interested in, and ask them to give." 
Adam traced the history of how fundraising practices, from face-to-face, direct mail, telemarketing, digital, mobile, and AI.  The challenge is that digital and mobile fundraising gives us 24/7 ability to fundraise and potential to scale it, but it is difficult also scale that 1:1 face-to-face engagement or personalization.   AI offers the promise to do this, that is if fundraisers adopt certain principles, skillsets, and tools.
These include:
Focus on Donor Empathy:  Understanding the donors point of view and shaping engagement based on that knowledge.    It is about creating an experience for the donor, not so much an ask based on what the staff or organization needs.    Nonprofits are selling donors joy and passion through the experience of their donation.
Understand Donor Behavior:  Sometimes called the "Donor Journey" but understanding the path they take and how they engage, what triggers the gift, and more importantly how to keep them engaged and to stay around and keep committed.
Test, Iterate, Learn:   Successful AI-Driven fundraising requires skills to test, iterate, and learn – all based on data.  The learning is all about how to make your fundraising campaigns more effective and efficient.   It requires having the right data and acting on it.
Use Automation/AI  to Free Up Human Time:   AI is used to do repetitive tasks or analyze huge swaths of data that humans could not do.  This allows staff to reallocate their time the creative thinking skills that can make fundraising campaigns more effective.   This concept is called "Coboting"
The Right AI Tools:

CRM with machine learning capabilities will be essential – but as you grow your campaigns your ability to analyze will be surpassed.  Adam said that nonprofits are in the early stage of using these types systems such as IBM Watson, Salesforce Einstein, and Adobe Sensei. 
Adam suggested that nonprofits can start to use AI-driven tools to improve specific areas of their fundraising campaigns. For example, Persado can help analyze subject lines and content in emails to increase conversion, even generating suggestions for subject-lines to test. He also mentioned Quilt.Ai another tool that can uses AI to analyze your donor communication and suggests improvements, even automatically writing a first draft.   Adam also warned that the tools alone won't work if an organizations is not uses some of the above mentioned best practices.
How is your nonprofit incorporating the use of AI in its fundraising campaigns?