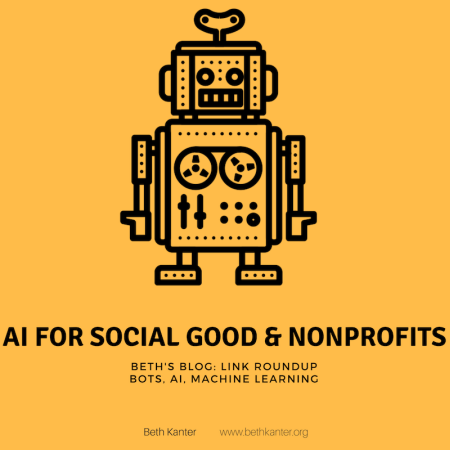 Allison Fine and I have been actively researching and writing about AI for Social Good and Nonprofits with an eye towards our next book. Most recently, we co-wrote an  op-ed for the Chronicle of Philanthropy on the age of automation and it implications for fundraisers.  We are tracking the conversation and resources about AI and Nonprofits and social good. Here's this month's roundup.
Algorithmic Bias: Better Policy and Practice for Civil Society:    This podcast about #datadiscrimination and algorithmic bias was hosted by Digital Impact, an initiative of the Digital Civil Society Lab at the Stanford Center on Philanthropy and Civil Society(Stanford PACS). Facilitated by Lucy Bernholz, the panelists discussed how data mining, policy algorithms, and predictive risk models affect poor and working-class people in America.  The point is that algorithms are scaling inherent bias – and should not be used as crystal balls to predict what civil society needs, but be a mirror of civil society. The panelists included, Virginia Eubanks, Associate Professor of Political Science at the University at Albany, SUNY and author of Automating Inequality; Rashida Richardson, Director of Policy Research for the AI Now Institute; and Di Luong, Research and Policy Organizer at Media Mobilizing Project. You can find the recording here as well as an extensive list of resources and tools to better understand algorithmic bias and the implications for policy change.

SalesForce: Dreamforce Keynote on the Future of AI:  Salesforce's Chief Scientist Dr. Richard Socher and his team of researchers introduced new AI functionality features (called Einstein) integrated with the Salesforce platform). In this entertaining video of the keynote, they explained these complicated technologies in simple, easy to understand language.  The opening video sequence shows how AI will impact the everyday work flow of business professionals. You can watch the keynote on YouTube. (Hat Tip to Tal Frankfurt)


Machine Learning Explained:  Risto Siilasmaa, Chairman of the Board of Directors of Nokia Corporation studied Machine Learning so he could answer the following questions:
Why is machine learning so topical right now?
How does machine learning actually work?
Why is it dangerous to ignore machine learning?
What should governments, universities and companies do?
You can watch the YouTube presentation or read the takeaways here.
California Passes New Law That Bans Bots From Pretending to Real People:  California Gov. Jerry Brown  signed a bill last week bans bots from pretending to be real people in pursuit of selling products or influencing elections. Automated accounts can still interact with Californians, according to the law, but they will need to disclose that they are bots.The law comes as concerns about social media manipulation remain high and bots continue to spread misinformation and divisive political rhetoric. Bots are also not limited to social media. Google caught the attention of the tech industry in May when it rolled out Google Duplex, a new voice assistant that could talk over the phone with humans to schedule appointments or make restaurant reservations — complete with "ums," "ahs" and pauses just like a human. The demonstration sparked a discussion around the ethical issues of having people unknowingly interact with bots.  More on the new law here.
Twitterbots: Making Machines that Make Meaning: A new book by Tony Veale and Mike Cook from MIT Press that examines the world of Twitterbots, from the funny to dangerous as well as to the hows and whys creating bots as well as the place of bots in the social media landscape. It includes a guided tour of some of Twitter's most entertaining and harmless bots, from the @big_ben_clock, which tweets every hour to mark the time, to the @pentametron, that tweets in iambic pentameter, to more nefarious bots such as  @TayAndYou (which "learned" conspiracy theories, racism, and extreme politics from other twitter accounts).  You can grab your copy here.
The Complete Guide to Chatbots in 2018:  This guide comes to you from social media platform SproutSocial. It covers the basics for social media managers about the different types of bots and how to build them.
 Gmail Gets Smarter:  If you are a gmail user, then you no doubt have noticed the newest feature,  Smart Compose that uses Artificial Intelligence to finish your sentences. This is not an annoying predictive text feature, but is actually quite good. It learns over time your typical style of writing emails. While I have noticed it has saved me some time in my email box, it is a bit creepy. What you think? More here.