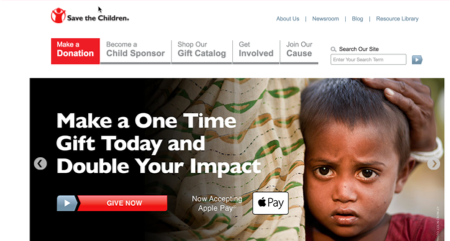 Apple has had a rule that banned iOS apps from collecting funds for charities or fundraisers via Apple Pay. That means if they collected funds, it would have to take place outside the app, such as through a browser or text.   Apple also made it difficult for nonprofits to collect in-app donations without incurring huge transaction fees on top of credit card fees.   Six years ago,  I helped organized a protest and online petition to ask Apple to change their online donation policy for nonprofits.   They ignored us, despite getting thousands of signatures and lots of media attention.
Today, Apple announced  that its payments service Apple Pay will now support the ability to make donations to non-profits, starting today in the U.S.  Now,  "donate" buttons will be integrated right in their app and the ability to process the transactions through the payments service. On mobile phone, that means users can use TouchID.   On the Web,  users click the Apple Pay donate button in Safari, then can confirm their payment via their iPhone or Apple Watch.
The good news is that ApplePay doesn't charge a fee themselves. The underlying card systems charge a merchant fee based on their normal rates. So basically "normal credit card fees apply" is the typical model.
According to a post in TechCrunch,  a number of non-profits are launching with Apple Pay, including American Red Cross, American Heart Association, charity: water, GlobalGiving, The Nature Conservancy, Save the Children,  UNICEF, United Way,  WWF (World Wildlife Federation) and others.
With more and more nonprofit donors transacting their lives on mobile phones and an increasing percentage of mobile donors, the ability to use Apple pay will mean the potential for "frictionless philanthropy." Apple is working with Benevity, an online giving platform, to help nonprofits integrate Apple Pay.
As we approach the kick off of the 2016 Giving Season with Giving Tuesday in two weeks, it will be interesting to observe and hear about best practices for frictionless philanthropy.