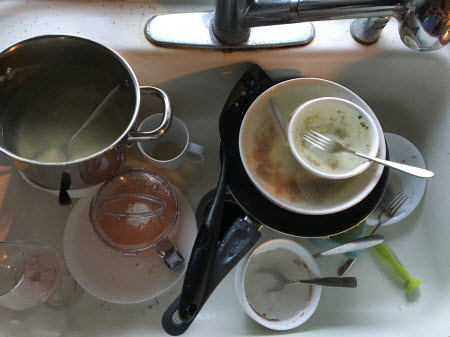 In my newest book, The Happy Healthy Nonprofit: Strategies for Impact without Burnout, the first half of the book addresses how nonprofit professionals can assess and become more self-aware about the symptoms of burnout and begin to practice self-care to avoid burnout.
Burnout is a state of emotional, mental, and physical exhaustion that occurs when we feel overwhelmed by too many demands, too few resources, and too little recovery time.   There are physical symptoms like headaches, aches and pains, insomnia, and inability to concentrate as well as a general feeling of hopelessness and anxiety that can lead to depression.   In the book, we include a couple of good checklists and assessments to help educate people about their symptoms.
However, there can be other signs that work/life balance is out of whack.    My colleague, Aisha Moore who blogs about self-care calls it "The Personal Craziness Index."    For me, it is having dishes pile up on the sink and procrastinating on doing important tasks by doing urgent, easier tasks.   This week on various Twitter chats and webinars to discuss the topics in The Happy Healthy Nonprofit: Strategies for Impact without Burnout we asked participants what it was for them.  Here's what heard:
Messy desk or desktop
Too many tabs opened on the browser
Forgetting items to bring to work – lunch, charger, etc
Hitting the snooze button too often
Misplacing keys or other items and wasting time looking for them
Doing a task twice because your forgot you did it already
Going into your boss's or co-worker's office to ask a question and forgetting what it is
Procrastinating
Aimless scrolling through Pinterest or other sites that have nothing to do with work
It is helpful to have the self-awareness about your Personal Craziness Index and take it as a sign that if you need to shift or you will be on the way to burnout.  Even though I have a solid self-care routine, I occasionally see my personal craziness index – those dishes in the sink or pracastination.  When it happens to me, I take it as a sign to hit the pause button and slow down.   Next, I mindfully clean all those dishes.  I might take a few deep breaths and do a brief mindfulness exercise to help reduce feeling overwhelmed.   I might even take a quick walk.   Then, I'll come back to work with a mindset of wiping the slate clean – and start fresh.
This simple routine will take a ten minutes at most, but it prevents me from ending up in the burnout bin.
Aliza Sherman and I will be talking about the Happy Healthy Nonprofit on a free Webinar next week hosted by Mobile Cause. You can sign up here.
What is your personal craziness index?  How do you shift from a state of stress to state of calm?