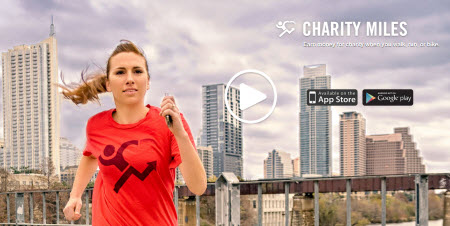 Over the past year, I have been using a fitbit to help me incorporate more activity in my life.  I've committed to walking 10-20,000 steps per day and even earned my 1,000 miles badge.  But what if you could raise money for a charity just by walking, running, or riding your bike?    That's exactly what the app "Charity Miles" makes happen.   You download the app, select a charity, and start moving and earn money from sponsors for that charity.  Walkers and runners earn 25¢ per mile; bikers earn 10¢ per mile, all courtesy of corporate sponsors like Timex, Humana, Lifeway and Johnson & Johnson.  The app is so good that it has been nominated for a Webby!


In March at SXSW, I bumped into Gene Gurkoff outside of the Social Good Lounge.    He shared why he started this app:
"I started this app because I've been running marathons for 11 years to raise money for Parkinson's in honor of my grandfather who has it. I've run 39 marathons and 6 Ironman triathlons for Parkinson's and I'm one of the founders of Team Fox, the grassroots fundraising arm of The Michael J. Fox Foundation. I always wanted to get companies to sponsor me. But since I'm just a regular athlete, I could never do that. So, I figured that if I got enough people together then we could all get sponsored— just like the pros but for charity."
This was meaningful to me because my father lost his battle with Parkinson's last year and I felt like a great way to walk with intention to honor him.  This isn't about fitness or crowdsourced motivation, it's about supporting a charity that has some meaning to you.
Gene launched the app in June of 2012 and it has been growing ever since.   It's been written up in most major fitness magazines, including Runner's World.  It has also  have won several awards, including the SXSW Dewey Winburne Award for Community Service and the SXSW People's Choice Award.  And, now the app has been nominated for a Webby – please vote for it!
The whole concept of walking with intention is intriguing to me.   It makes me wonder how can one integrate movement and walking into work?  I've written about why I think movement is the killer app for work but love to see this embraced by more people.