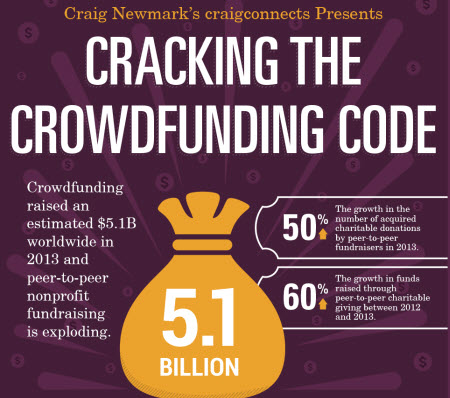 I'm at the AFP Conference where I will be on a plenary session about "Social Media for Social Change" moderated by Social Media 4 Nonprofit leaders Darian Rodriguez and Ritu Sharma, along with Carolyn Miles, Save the Children and Ben Rattray, Change.Org.  I'll be talking about the role of hyper-connected donors based on my experience and some recent research that shows how valuable these champions are for crowdfunding and social fundraising.
I love serendipity!   Since last summer, I've been working with a cohort of Knight Foundation grantees who are hosting giving days to facilitate a peer learning group, so I have been curating content related to crowd funding and social fundraising.    The most recent addition to the collection is this awesome infographic from Craig Newmark describing the potential of crowdfunding for nonprofits and to change the world. The infographic summarizes crowdfunding data points including average gift size and average crowdfunding campaign totals from platforms like Causes, Causevox, FirstGiving, Razoo, and StayClassy.
Some statistics from the infographic:
$88 is the average donation size
$534 is the average total amount raised by an individual
$9237 is the average amount raised when groups are working on a team to fundraise
28% of donors are repeat donors
Recently, I had an opportunity to take a deep dive into survey data that appended actual social media activity of respondents as part of a presentation I gave at SXSW with Alex Samuels from Vision Critical who developed the research and the methodology.   We looked at the donation motivations and habits of individuals and their social media usage habits.  One thing we learned is that heavy social media users are more likely to be new donors to the charity after encountering them on social media channels.   The statistic of 28% are repeat donors or 72% are new donors – points to the need for nonprofits  to not only use social channels and crowd funding platforms to attract new donors, but more attention needs to be give to engagement and retention.   Frank Barry did a panel at AFP just on this topic – here's some tips.
The infographic also summarizes some best practices for nonprofits for crowd funding platforms:
Tell engaging and personal stories to connect people to their fundraiser in an authentic way.  (Here's an example)
Set realistic fundraising goals.
Develop a plan to promote the fundraiser and rally personal networks via multiple channels
Demonstrate impact
Keep the community updated on the fundraising progress through various channels
Brand the fundraising page
Stand out by making the fundraiser unique and fun to get people's attention
Always thank your donors via email, social media, and handwritten notes
Crowdfunding was also the topic a recent Nonprofit Technology Conference earlier this month with Steve MacLaughlin, Sarah Janczak, David Neff, and Miriam Kagan – see the notes for more statistics and best practices.  If your nonprofit is considering launching a "crowd funding campaign," there are a number of platforms available.  This infographic summarizes the features and benefits of different tools.



The infographic also summarizes data about Giving Tuesday from Blackbaud.   Recently, GivingTuesday held an innovative "Learn Tank" where participants shared their best practices and learning agendas for GivingTuesday 2014.   Some key themes:
the need to focus on measurement for impact
share information and tools, earlier and more easily
celebrate and showcase the "de-centralized" successes in your community
experiment with an idea (meme or concept) that helps best define "giving" in the voice of your constituency
You read a transcript of the tweets here.
The infographic does not incorporate stats from the many local giving days that are happening in many communities across the country and becoming a global movement.   GiveMN, a statewide crowdfunding campaign for Minnesota nonprofits, did raised over $17 million on November 14, 2013, with over 52,000 individual donors and North Texas Giving Day raised over $25 million on September 19, 2013 using Kimbia.     These campaign results show the power of giving days when all nonprofits promote a culture of giving in a community.    The Knight Foundation has published a Giving Day playbook which is filled with best practices that nonprofits can use on crowd funding platforms.
The infographic shares several campaigns launched by nonprofits, including a campaign that raised over $4 million by KONY 2012.   While not mentioned on the infographic, a few nonprofits have seen dramatic results.  Habitat for Humanity raised a total of more than $5 million the money raised at Share.Humanity.org (which is powered by crowdfunding site Fundly).   charity:water has raised over $9 million using its crowd funding platform to encourage its supporters to raise money to celebrate their birthdays.
What your nonprofit's success story using crowd funding?    What are your best practices?