Note from Beth:   I was lucky enough to get an advanced copy of Data Driven Nonprofits by Steve Maclaughlin (launching Sept. 6th so stay tuned) and so data and nonprofits has been on my brain.  So when colleague, Cheryl Contee reached out an idea for this post, I could not resist!  Speaking of books, you can pre-order my next book, The Happy Healthy Nonprofit: Strategies for Impact without Burnout due out in October.

Everyday People Are Heroes: Using Big Data to Engage New Agents of Change Online Guest Post by Cheryl Contee
In mid-July, NASDAQ announced that Blackbaud acquired Attentive.ly – a pioneering social listening and marketing automation tool co-founded by Rosalyn Lemieux, Cindy Mottershed and myself in 2012 — to offer nonprofits more innovation and better insights around list engagement.
Did you miss it? This is awesome news for nonprofits! Why?
It's a rare acquisition of a female founded tech startup and the first time a tech startup with a black female founder on board has been acquired by a NASDAQ-traded company. #BlackHistory – We're very excited! The merger will put Attentively's groundbreaking big data software – that helps nonprofits identify & ally with the social media superstars hidden in their email lists – into the workflows of over 35K nonprofits worldwide. Yay!
Attentive.ly and Blackbaud understand that everyday people are the real heroes, and together working with your nonprofit, organizations can tap into that heroism and build bigger, better movements for good online. Here's how:
1. Everyday people are the most powerful agents of change.
We designed Attentive.ly around this knowledge: Individuals may often have larger social networks than the nonprofits with whom they interact and support. A powerful Twitter, Instagram or Vine user fuels social change among their followers by sharing, engaging and ultimately mobilizing networks that radiate outward to create viral spread – potentially of your org's video or petition. Your staff simply can't achieve your mission by themselves. The culture of the web has changed. Your nonprofit will win when you partner consciously with the everyday people who are on your email list or follow you on Twitter or Facebook who will adopt your mission as their own and act as independent evangelizers of your cause.
It's never been easier for nonprofits to grow their social & email lists and generate a critical mass of supporters. Yet one of the challenges facing organizations today is not just numbers. The next level is being strategic about understanding your audience. You want to capture the imagination of supporters while also building the power necessary to effect systemic, lasting change.
2. People-powered campaigns do good better.
Tools like Attentive.ly can help organizations can conduct big data-enabled social listening and identify key everyday people in their audiences that will help drive engagement in dramatic directions. These new tools entering CRMs help your small team communicate with many more people at scale much more easily using marketing automation. For example, one of our clients American Rivers set up Attentively so that each time a supporter mentioned "grand canyon", they were put into a group who received an automated email asking them to sign their petition or share the petition if they already signed. By automating emails based on social mentions, American Rivers sent highly targeted emails asking their supporters to sign their petition within 24 hours of the mention. The Result:
• 24% petition conversion rate
• 2,500 new petition signers and 7,000 signers overall
• 0 unsubscribes (!)
Pretty smart, huh?
Also, you may have noticed that earlier this summer, Facebook announced an update to its newsfeed algorithm that will favor posts by people users care about most: their family and friends. This means posts by Pages (like your organization's carefully maintained Facebook Page) will show up less prominently in your everyday heroes' feeds. Facebook predicted that this change will cause reach and referral traffic to decline for most businesses, public figures, publishers and organizations.
That's a bummer but Pages can still retain a great deal of traffic if your fans and members are sharing your content with their own networks. It's key to empower the everyday people in your audience to create their own narrative around your issues by sharing and curating your content in their own voices. With Attentive.ly, nonprofits can locate the most passionate supporters on their list talking about your issues who also have large Facebook followings, giving them an active role and the freedom to share & customize your message for their network. Tapping into the collective intelligence of your crowd generates more commitment and enthusiasm, and often yields valuable insights and innovations.
3. The best campaign is like a really good hashtag.
Design your campaign to function like a #hashtag — think: what's a shared rallying point? — for a wide coalition of everyday people. Use social listening tools like Attentive.ly to take the pulse of people on your list and equip them as independent actors to transform your cause campaign into a social movement! Causes are driven by strong emotional currents and, by speaking up for their own passions, people are what ultimately help campaigns build momentum and stand apart. When social listening data informs a campaign's have more chances of being positioned in ways to drive and sustain an energized movement.
Are you ready to do good better? You'll need a sidekick! Just because we love Beth and all the amazing people like you who read her blog, we'd like to help you get started tapping into your everyday heroes for FREE. Visit Attentive.ly/Report to match your email file (of up to 5000 names) with our social data and receive a custom infographic to see your social reach.
It's more important than ever to learn more about the awesome ways organizations like yours are empowering the everyday people on their lists to be heroes on the Internet. Because you are an everyday hero, too…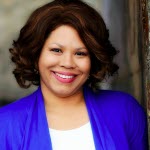 Cheryl Contee is the CEO of Fission Strategy, which helps design dynamic digital ecosystems for change and the Co-Founder of Attentively and #YesWeCode.