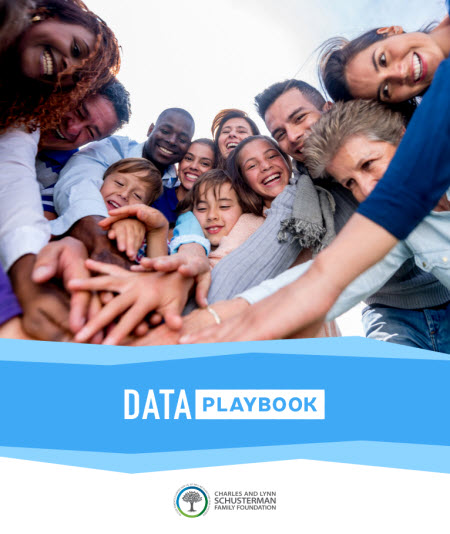 Join me at Markets for Good on December 6 at 1 pm EST for a FREE roundtable discussion about the new Data Playbook. 
It has been almost exactly four years since I published Measuring the Networked Nonprofit:  Using Data to Change the World, with co-author, Katie Paine.   Back then, not many nonprofits were talking or practicing the use of measurement and data to improve nonprofit results.  Of course, there were a few bright spots such as Mario Morino's Lead of Reason, DoSomething.Org, DataKind, and other nonprofit data nerds.
The field has grown exponentially.   Last year when I attended the Data for Good Conference there were several hundred nonprofits interested in data in the room and there is a whole online community focusing on little, medium, and big data at Markets for Good.   There are more and more resources and opportunities for nonprofit professionals seeking to learn about how to use measurement and data.
One of the newest resources, a free online guide called "The Data Playbook," was recently published by the Schusterman Foundation and written by Rella Kaplowitz, Program Officer, Evaluation and Learning.   The guide is organized by four key questions and includes a mix of practical tips and case studies featuring Jewish organizations and others.  The four key questions are:
What data to collect?
How to collect data?
Making meaning
Communicating Results
You will also find a well-curated resource toolkit that includes articles, books, tools, and resources.
Here's what I most appreciated about the Data Playbook:  It is written in plain English and doesn't take you down the rabbit hole of complexity and jargon that turns off people who many not be measurement experts.   It includes frameworks, but also very actionable and doable tips and practices.    It doesn't attempt to be comprehensive, but links to resources to go deeper in a particular area.  I would describe less of a handbook on how to use data, and more of a recipe to become a learning organization.
Here's some thoughts about each section:
What Data to Collect
All measurement processes start with defining objectives or outcomes.   The Playbook includes a few examples and methods for doing this. One that I was not familiar with it is called CLEAR goals are defined as:
Collaborative – achieved in partnership with others
Limited – possess a defined scope and duration
Emotional – harness the energy and passion of the team working to achieve them
Appreciable – smaller goals contribute to a bigger objective
Refinable – adapt to rapidly changing environments
I like how these qualities easily link to networked approaches, storytelling, and iteration, but can also be linked to specific measurable data points.   The Playbook gives you an examples.
The Playbook also discusses the skillsets that a nonprofit needs to use data successfully, both for staff and for hiring consultants or working with skilled volunteers.  The Playbook also has a good checklist for what to keep in mind if you are hiring an outside evaluator or measurement expert.     It also important to think about to development skills internally regardless and the Playbook offers a good list:
Being "data-minded": Someone who currently has or can build skills for creating charts, graphs, pivot tables and Excel formulas; someone who is interested in building surveys, exploring data and helping to make meaning out of numbers.
Facilitation skills: Someone who can work with others to define needs and questions, collect data, translate the results and then work with different individuals or teams to use it.
Communication and storytelling skills: Someone who understands the many audiences of your organization, both internal and external, and who can help you craft the right messaging and stories with your data.
How To Collect Data
The Playbook offers some excellent practical tips on how to design and implement surveys and focus groups, one of the most common methods many nonprofits use to collect data.  The tips and practices are geared DYI data collection – that is done in-house.  There is also a section that discusses additional methods such using open data sets and program evaluation that may require hiring a consultant.
Meaning Making
This section takes you through the basics of analyzing and finding patterns in survey data.   The Playbook offers a clear definition and steps for using basic statistical analysis, even if you are not an expert.  The framework is called:  "facts-stats-trends" :
Facts: Counts, or sums, of numbers
Stats: Basic descriptive statistics (average, median, mode, distribution)
Trends: Looking at data over time (e.g., percent change, percent difference)

Within the same group at different points in time
Between groups at the same time or at different points in time
Communicating Results
This section goes beyond just the mechanics of how to create charts and graphs and includes the need for reflection and making changes based on what you've learned.  It includes an excellent primer on storytelling with data based on the principles of good storytelling.     In thinking about the purpose of the report, the Playbook offers up the distinction between:
Informational: Conveying "nice to know" information
Decisional: Conveying information that contributes to a specific decision or action
The Playbook also includes a terrific step-by-step section that helps figure out how to translate your numerical data into a visual format and how to refine.
I am excited to participate on a virtual round table on December 6 at 1 pm EST at Markets for Good to discuss this terrific new resource.  I'll be joined by Jacob Harold, CEO of Guidestar, Rella Kaplowitz, Schusterman Foundation and author of the Data Playbook, and Andrew Means who will moderate.  You can register for free here.