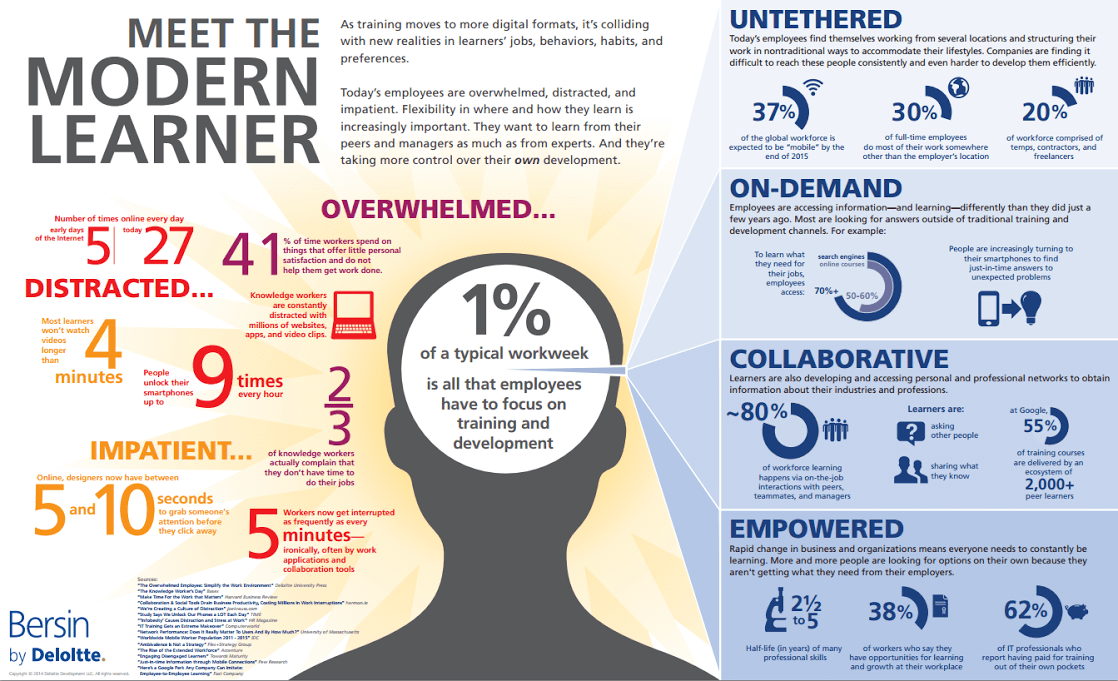 Bersin by Deloitte's infographic "Meet the Modern Learner" is an excellent summary of the challenges facing trainers who need to design and deliver professional development for nonprofit professionals.   Instructional design is knowing how to organize your content and shape exercises based on brain and learning research.  This infographic is an insightful profile of the way people learn in the modern workplace.
If you are designing and leading any type of training, take into account the current context for your participants. They are overwhelmed, distracted, impatient, and likely to be not tethered to a physical location or computer desktop. They are also learning how to access professional and personal networks to get answers to their questions. I'm working on some interesting professional development projects in 2016-2017, including the next iteration of the Emerging Nonprofit Leader Playbook and peer learning program and self-care and wellbeing in the workplace workshops based on the content in my forthcoming book, The Happy Healthy Nonprofit: Strategies for Impact without Burnout.
From a design perspective, one takeaway is to create micro learning opportunities.   One key idea in the infographic is the fractured nature of the modern attention span.    So, how can you design those face-to-face experiences so they are more micro? Or how can they be integrated into the workplace more effectively?  The idea is micro-content and micro-exercises or mini-sessions.  One question that I do have, with self-care and anything that requires habit change or culture change, it takes time and immersion.  So, how do you account for that?
The other idea it sparks for me is one about content.  In the self-care workshops curriculum that I've developed, I cover a number of workplace skills beyond creating a self-care plan.  These include:
Self-management – How to avoid having your emotions hijack your decision-making
Mindfulness and Reflection – How to use these techniques to help keep your focus
Awareness or Attention Training – How to keep your focus, especially when you are working on online
Avoiding Procrastination – (I'll tell you more about this another time)
Energy Replenishment – How to manage your energy to get a lot things done by using strategic breaks
I recently read an excellent post on this topic with some highly practical information called "The Two Things That Killing Your Ability To Focus and How To Fix It" which was an excellent summary of recent research and practical tips.  Some nuggets:
The two things that kill our focus:
Waking Up In An Electronic, Hyper-Connected Distracted Haze:   The state of being in an electronic haze is constantly being chained to your mobile phone — checking social media, news, or your email – as the first thing you do in the morning, too many times during the day, and before bed.  While we are living a more connected world, it is a much distracted world.  I kicked my distracted working habit last holiday season with one simple tweak in my routine. I stopped sleeping with my mobile phone and built in more time for morning reflection.
Collaborative Overload:  Collaborative overload is the burnout that results from over use of e-mails, meetings and other collaborative tools that have, ironically, limited our ability to get stuff done.  The term was coined by Rob Cross, Adam Grant, and Reb Rebele in this HBR article.
Okay, so we are addicted to our mobile devices and other online technology and we stuff our work days with too many meetings, leaving little time get work done.   Now wonder so many professionals complain that they don't have time to do their jobs!
The article provides a number of really good practice tips.  I personally have been applying these techniques for many years and find that if I don't work in this way, I end up overwhelmed and stressed out.   Here's how I do it:

Practice Reflection Daily:  I don't immediately jump online and into email first thing in the morning.  I make time for a morning walk, journal, drawing, or mindfulness breathing exercises on an app.   I've found drawing Zentangles, a form of meditative art work that you can do in 10-15 minutes, has helped improve focus.
If you want to give Zentangles whirl, here is a greater set:
One Zentangle A Day by Beckah Krahula
Zentangle Pens and Pencils
Artist Tiles
What do you think are the most important skills that nonprofit professionals and leaders need to manage their attention and be productive?  What is the best way to design professional development for today's busy, hyperconnected nonprofit professionals?
If you have read this far, please take a moment and pre-order my forthcoming book, The Happy Healthy Nonprofit: Strategies for Impact without Burnout.  Thank you