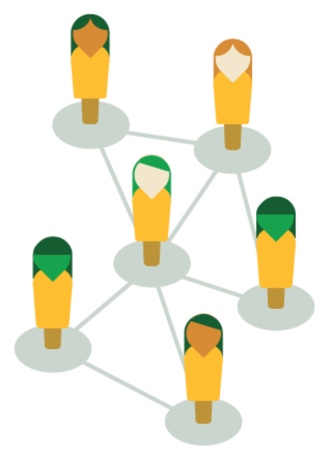 Note from Beth: As many of my loyal readers know,  I've been on a book tour with the newly released "Measuring the Networked Nonprofit: Using Data for Social Change" with co-author KD Paine.    In early October we made the rounds to promote the book in Boston and I had a chance to meet Brooke Freedman and Brian Halligan at Hubspot.    I happened to mention that I was seeing reports from nonprofit folks about the recent change in the Facebook Algorithm and Megan Keaney Anderson offered to write this guest post.
How Nonprofits Can Use Measurement to Adapt to the Facebook Algorithm Change – guest post by Meghan Keaney Anderson, Hubspot
In late September news trickled out about a change in Facebook's Edgerank algorithm that was causing big drops in reach for many branded pages. The Edgerank algorithm is what determines how posts are displayed on the newsfeed and in what priority order. Noticing a clear decrease in the reach and virality of pages, Beth Kanter took to Facebook to see if many nonprofits had experienced it.  She received a number of replies affirming the change.
What has changed?
Both Edgerank Checker and Post Rocket have good posts on the details, but in a nutshell, Facebook has altered the way it displays posts in the newsfeed to prioritize posts that have the greatest number of interactions – a cumulative figure determined by the number of clicks, likes, comments and shares a post receives. The new algorithm also factors in negative feedback and penalizes posts that have been actively hidden by viewers or reported as spam.
How big of a difference does this make?
After learning of the change, Edgerank Checker was quick to conduct a study, they compared analytics from 3,000 Facebook pages the week before the change and the week after.  The flash-study found that branded pages lost about 6.5% of their reach on average after the change and a whopping 45% of their "virality" reach according to Facebook's figures.
So the new algorithm certainly seems to be having an impact. The question now is, short of paying for promoted posts, what can nonprofits do to adjust to these changes and make sure their content earns the sort of reach and virality needed to engage new volunteers, donors and advocates?  Here are a few tips to keep in mind to help your content remain top-of-stream.
Tactic 1: Audit your content
The major point that emerges from Facebook's explanation of the new algorithm is that posts with the most positive engagement in the form of clicks, likes, comments and shares will appear more often in the newsfeed resulting in higher reach and virality.  This is actually a good thing for Facebook users.  As more and more brands have ramped up their presence on Facebook, the newsfeed has become increasingly cluttered with content.  The algorithm change was designed, at least in part, to reduce the noise in an individual's newsfeed and give more prominence to really good content.
How to leverage it: Take 30 minutes to audit your content that has done well in the past on Facebook.  Put your top content through each of the following questions and see where trends emerge.
What commonalities do the posts have in terms of subject matter or format? 
What tone did each of your top shares have?  Were they urgent? Funny? Or did they raise questions for response?
What was the call to action, if any? In her recent book, Beth Kanter talks about a ladder of engagement, with smaller actions laying the foundation for larger ones.  Where in the ladder of engagement would you place the CTAs of your top posts?
Once you have laid out your top posts and examined their tone, content and format, use any themes that emerged to map out your future posts.

Tactic 2: Post at the optimal time to drive activity
Because so much of the new algorithm depends on early activity, timing is just as important as content. In 2011, HubSpot's Dan Zarrella conducted extensive research on the topic of social media timing. He studied more than 1.3 million posts from the 10,000 most-Liked Facebook pages to glean some larger trends in the timing of social shares. What he found for Facebook was that shares on average had the highest rate of activity during the weekend. It's easy to forget about posting on weekends, but weekends are prime-time for engagement with newsfeed posts.  Many offices still block Facebook during the workweek.  Even for those who allow it, the weekend allows more time for individuals to browse and interact with posts.
How to leverage it: Use a social media scheduler to line up posts for the weekend. See what kind of activity you get. Don't rely on HubSpot's research alone however, conduct your own experiments to see what days and times tend to see the highest activity within your office. Pull your top posts and see if any trends emerge in the timing of those with the most interaction.  Similarly, pull posts that saw no engagement and try to identify black holes in your sharing schedule to avoid in the future.   Here's a look at HubSpot's analysis, which I pulled together just before this post.
As you can see, our posts seem to generate the most activity on Sunday, followed shortly after by Monday and Tuesday. We garner lower engagement toward the end of the week.  I also took a look at the time of day when activity is highest for us.  Sorted below in the HubSpot social media tool, you can see that we have had good success sharing content with our audience in the mornings.
Tactic 3: Understand the behavior that leads to hide, hide-all, and unlike
In addition to auditing what's working with your shares, take a look at what would motivate a user to hide, hide-all or unlike your content. Hiding content is tantamount to deleting an email without reading it. Hiding-all is the equivalent of unsubscribing, and unliking closes the relationship entirely.  In Facebook's new algorithm, content that has negative feedback from some users can cause it to be minimized or pulled from all news feeds.  Take a look at what could be causing people to hide or unlike your content.  Are you posting too frequently? Try altering your schedule to add more space between your posts.  Are you asking for too much? Compare posts with different CTAs to see what types cause hides or low engagement.
Tactic 4: Post more images and videos
Our research and our day-to-day experience shows that images and videos tend to have much higher engagement than text-only posts or links.  Make sure you've got a healthy mix of images Below, an image from United Way of Massachusetts Bay & Merrimack Valley (an organization I support) shows the value of volunteering. The image resulted in 30 likes and 3 comments, among the highest levels of engagement on their page. Want to make an image even stronger? Couple it with a relevant link to your volunteer page or another CTA.
Tactic 5: Balance your content
Trying out different types of content will help you see what posts work best.  In addition, keeping a healthy balance of different types of posts can help you engage different people. Oxfam does a nice job with this on their Facebook page.  Think about mixing your content up to meet the interests of a growing audience and to keep your Facebook page fresh.  Incorporate
Blog posts
Images with CTAs
Videos
Cause-driven items for purchase
Quotes from supporters
Profiles of the people you serve
Questions for your fans and followers
Responses to your fans and followers




Tactic 6: Advise super-fans to add your organization to an interest list
One sure-fire way for your top supporter to see all of your organization's shares is to encourage them to add you to an interest list. Interest lists on Facebook organize all of your favorite topics and keep you from missing posts.  Even better, if the interest list is left public, others can subscribe it – expanding your reach.
You can create your own interest list with partner organizations or nonprofits in your geographic area, then encourage others to subscribe to it.  Lists turn Facebook into a media consumption channel in addition to a social network.
Keep calm and inspire on
This was not the first adjustment Facebook has made and it likely won't be the last. The best response to this and any change from a third party platform is to dissect what drives the change and determine how your social media strategy can best adapt to accommodate it.  Early on, the algorithm change raised concerns that purchasing promoted posts would be the only reliable way to maintain a presence in the Facebook newsfeed.  But a closer look at the character of the change reveals a number of methods that nonprofits can use remain on top without having to dip into vital funds.  Even with algorithm changes, the main tenet of social shares remains true – interesting,remarkable content will always rise to the top.
Meghan Keaney Anderson is a product marketing manager at HubSpot — all-in-one inbound marketing software.  She writes on technology, writing and social innovation and can be found on Twitter @MeghKeaney