We are heading into the most stressful time of year for nonprofits, especially for fundraisers.   Year-end giving campaigns.   With Giving Tuesday just around the corner, the kick off the that busy time of year for most nonprofit development directors and their teams is just ramping up.    So, take a deep breath!  Remain calm, and don't forget to practice self-care by putting the oxygen mask on before diving into your year-end appeals and thank you notes.You might want to treat yourself to copy our new book, "The Happy Healthy Nonprofit:  Strategies for Impact without Burnout," read up on all the tips and methods that we gleaned from interviewing hundreds of nonprofit professionals about their self-care routines.   The better you take care of yourself, the better results your organization will get and you will be able to replenish your energy.
If you are short on time, we published this very brief article on GuideStar, Four Smart Ways to Avoid Burnout for Nonprofit Professionals that offers some basic self-care tips that will help you get through this very crazy time of year.
If you want to learn more about self-care, my co-author, Aliza Sherman and I will be presenting several free Webinars and Twitter chats in the next few weeks.  Here's the information: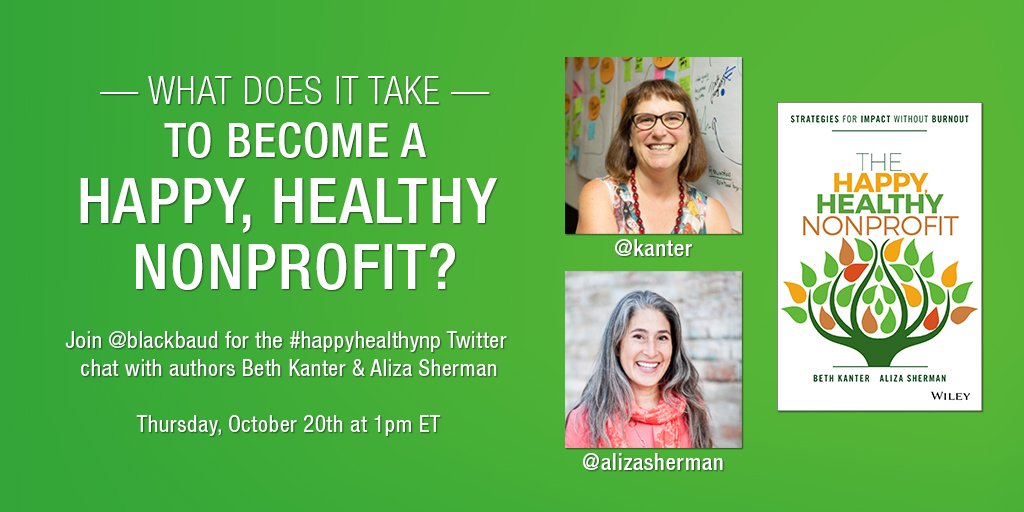 On Thursday, October 20th at 1 pm EST, Blackbaud is hosting a Twitter Chat to explore what it takes for your nonprofit to become healthy and happy.  My co-author, Aliza Sherman and will answer questions and offer up tips.  Follow the hashtag #happyhealthynp on Twitter.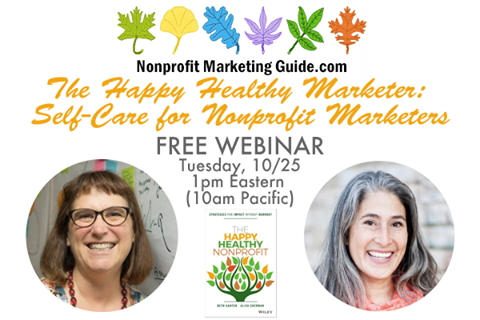 On Tuesday, October, 25th,  we are presenting a free webinar,  The Happy Healthy Marketer: Self-Care for Nonprofit Marketers hosted by the Nonprofit Marketing Guide.




If you missed it,  I was honored to be on a panel of experts discussing year-end giving best practices hosted by CauseVox.   I discussed ways that you can avoid stress and burnout for your fundraising team as well as few tips for your individual self-care.  The session  includes lots of expert tips on the trade craft of planning and implementing a successful online campaign. You'll find a blog here summarizing the discussion or listen to the full recording.
Reviews
A few more reviews have come in about the book:
Thank you everyone for your support of the book and for joining the conversation about self-care for nonprofits.   We have created a Facebook Group where nonprofit professionals are sharing tips and resources about self-care and bringing a culture of wellbeing into their workplaces.  Join Us!