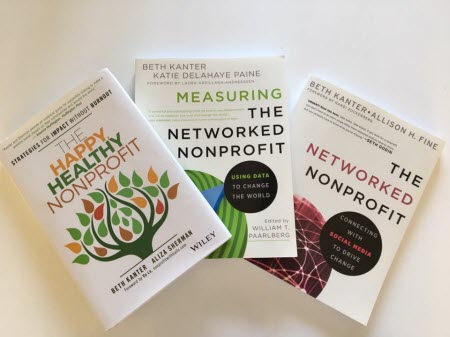 I am thrilled to announce the official launch of my third book, The Happy Healthy Nonprofit: Strategies for Impact without Burnout with co-author Aliza Sherman.   The book explores why burnout is so common in the nonprofit sector and simple ways to practice self-care and bring a culture of well-being into the nonprofit workplace.   Vu Lee, NonprofitwithBalls, wrote the hilarious foreword and Rob Cottingham created the cartoons to illustrate the book and guaranteed to make you smile.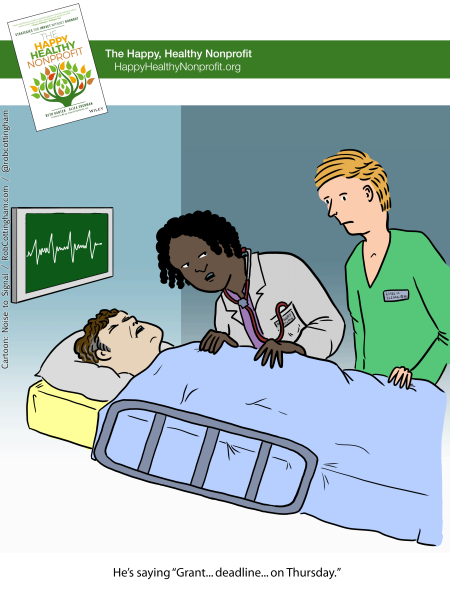 The book has been well received so far, with reviews from Marion Conway,   Vanessa Chase Lockshin, Aisha Moore, Michael Hoffman, Lisa Colton, Sarah Durham,  and Steve MacLaughlin.   Arianna Huffington endorsed our book:  "Kanter and Sherman provide an essential guide for nonprofits looking to make a positive social impact on their communities and around the world."
You can order your copy here.
The royalties that I earn from my books have been donated to nonprofits to support women's and girl's empowerment work and given this past week, I am all the more convinced of the need to support such programs.  The first two books, The Network Nonprofit and Measuring Networked Nonprofit provided college scholarships to two young Cambodian women, Savon Keo and Leng Tharath through the Sharing Foundation.  I have two adopted children from Cambodia, and both these young women lived in the same orphanage as my daughter.   Education in Cambodia is the path out of poverty and I am grateful that the modest amount of royalties from book sales have helped these young women make a better life.  Royalties from the Happy Healthy Nonprofit will continue to support a high school and college scholarship for a young girl in Cambodia through the The Sharing Foundation — the scholarship will be awarded at the end of the year, so stay tuned.
Book royalties from the Happy Healthy Nonprofit will fund a fellowship through WAKE: Women's Alliance for Knowledge Exchange Tech2Empower program in Cambodia.  The fellowship will support the Women's Resource Center Cambodia, a non-governmental organization based in Siem Reap Cambodia campaigning for women's rights and welfare every day. Women's Resource Center provides women and girls in Cambodia with emotional support, referral services, and informal education so they can be empowered to make informed decisions about their lives. Through this Fellowship, WRCC will, for the first time, hire a Khmer woman for a newly created position of Marketing and Communications Officer.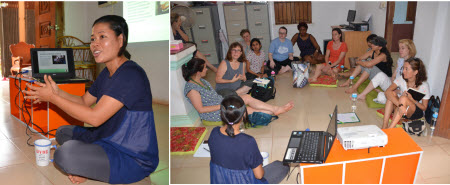 Last May, I was part of Wake's Tech2Empower trip to Cambodia , accompanying a group of professional women who work in Technology.  We spent a week training women's rights groups in Phnom Penh and Siem Reap.    In Siem Reap, we visited the Women's Resource Center Cambodia learned first hand of the challenges facing women and girls in that country and how the nonprofit's programs support them.
My book royalties will fully fund WAKE's Tech2Empower Fellowship to provide in-depth technology training and support for WRCC, with the goal of integrating and leveraging technology and communications to advance their work. The T2E Fellowship includes funding, access to and regular virtual support from expert volunteer Advisors from leading companies in support of the proposed Fellowship project, and customized training on tech and communication tools.
I am honored to be an advisor to WAKE, whose mission is to amplify the work of women leading change globally. WAKE gets technology and communications tools, training and support to women's rights leaders and their organizations so they can accelerate their impact. WAKE works closely with private sector partners to provide tools, products and volunteer advisors. Women's organizations in communities around the world are making strides to address the most critical issues impacting women and girls: gender-based violence, human trafficking, child marriage, displacement due to conflict, and unequal access to healthcare, education, political participation, and economic opportunity.
Tech2Empower (T2E) is WAKE's flagship program created to get technology and communications training, resources and expertise to organizations and leaders working to advance women's rights and security in their communities and globally.
With all that is going in this country this past week, it has convinced of the importance of supporting women's rights nonprofits and causes and thrilled that the royalties from the Happy Healthy Nonprofit will contribute in a small way.  My biggest hope for the book is that it also raises the awareness and discussion about the need for nonprofits to take care of their people while taking care of their missions and that self-care is part of doing the work.