Crowdfunding in general has raised more than 5.1 billion in 2013 and nonprofit fundraisers using crowdfunding platforms and techniques continues to explode (according to this infographic from Craig Newmark).   As nonprofits hone and refine peer to peer  fundraising best practices, we are also seeing more more people make philanthropy a part of their everyday personal expression – whether on social networks or in the real world.  There is a growing recognition, that personal success is not about solely about making a lot of money, but also giving it to charity as Ariana Huffington points out in Thrive: The Third Metric to Redefining Success and Creating a Life of Well-Being, Wisdom, and Wonder.
But giving, isn't just about making a donation or volunteering your time.   It's about engaging, participating, and being part of something bigger than yourself.   Perhaps that explains the appeal of community Giving Days or participating in global giving days like GivingTuesday.    We are starting to see a rise of crowd funding projects done by and for kids, perhaps as part of the trend of "PhilanthroTeens"  or "PhilanthroKids."   These are teens (and pre-teens) with a passion for social change and who grew up not knowing what it was like to not to have a cell phone  or be connected to Facebook, know as Generation Z.      The media has dubbed this generation – "Qwerty Monsters" who send hundreds of text messages a day and don't even like to use their phone for calls (and with two teens in my house, I can attest this is true).     But it is more than the technology, it is also their passion to do good in the world.
Here's a few recent examples that I've spotted recently in my Facebook newsfeed, comments on my blog, and other online places.   What they all have in common is kids who are combining their passion with philanthropy.
1.  A Crowdfunding Campaign To Save A Horse Farm
Meet Charlotte, the teen daughter of one of my colleagues, Tom Subak, who is Chief Information Officer for a national charity and knows a thing or two about engaging young people and fundraising online.    Charlotte started riding horses when she was 5 years old. Her first ride was on "Ida" at Flying Change Farm — the farm that is now in danger of being lost by its owner, Diane Schoonmaker.   According to Tom, Diane and the other instructors at Flying Change are very special people. They practice what's known as natural horsemanship, sometimes called horse whispering, where they focus on the connection between the horse and the rider, relying much less on physical domination and more on communication between the two.
The story is about how Diane has run into trouble with the local planning board is described here on her GoFundMe page and has incurred legal fees.  She is trying to raise money by selling one of her horses and crowdfunding money to help with her legal fees.  Charlotte is helping Diane garner attention for her campaign, by putting in to practice some good tips from her Dad!
2.  Crowdfunding Is Fueling A Dream To Be An Astronaut

My colleague, Stacey Monk, founder of Epic Change and one of the pioneers of peer-to-peer fundraising efforts incorporating social media, shared this NPR story about a Kickstarter Campaign by a Gideon, 15 year old boy who is from in Tanzania Africa.   At age 7, he knew his passion was space and wanted to be a rocket ship pilot.   The fact that he lived in a rural Tanzanian village where school only went up to the 6th grade did not stop him.   With help from Stacey Monk and inspiration from the potato salad guy on Kickstarter he has launched a crowd funding campaign to cover his school costs so he can become Tanzania's first astronaut.   (He will also create a special recipe for Tanzanian Potato Salad).
3.   Raising Money To Fight Food Insecurity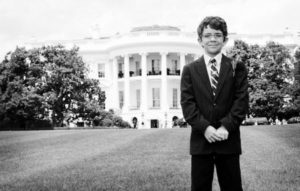 Braeden Quinn Mannering is passionate about stopping food insecurity for families in need.  He created his own nonprofit and program called ""Brae's Brown Bags" to help fight against hunger, probably making him one of the youngest nonprofit CEOs and founders.   He has used the money to purchase and distribute bottled water, fruit and other healthy snacks to those in need in his community.  He's handed out more than 1,200 bags  to shelters, soup kitchens or even on the street.   Last year March at SXSW, at the Future of Nonprofits, I predicted that in the future we'd have many free agent, teenage do gooders  like Mark Horvath that nonprofits will engage with.  Well, Braeden is one of them.
Braeden was chosen to represent Delaware at the Healthy Lunchtime Challenge banquet at the White House. His taco bowl creation earned him a seat at dinner with the First Lady, who offered yet another challenge to pay it forward.  You can read about his efforts on his blog.   I first learned about Braeden's work because he left a comment on one of my blog posts.    He's established a nonprofit, been invited to the White House, and tirelessly promotes his cause – all at age 10!  Look out world!
4.   The Next Generation of Cause Marketing for Cystic Fibrosis Research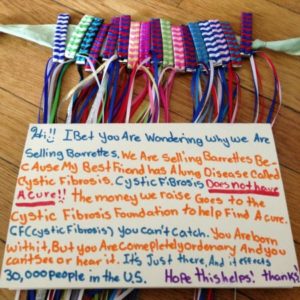 GivingTuesday is ramping up for its 2014 campaign and it looks like children and teens will be a part of the movement.    One example is Emily Barr from Maryland is a clever 5th grader who wants to help her best friend who has Cystic Fibrosis.  She is  making barrettes, selling them, and donating the proceeds to the Cystic Fibrosis Foundation. What could be better than that? She also takes the time to educate others about the disease and how to host a successful fundraiser.
Teens and preteens are passionate about social causes and fluent with online tools – so it comes as no surprise that we are seeing crowdfunding campaigns that they have created and are championing online, with just a little parental guidance and encouragement.   There are many other examples out there.
The question for nonprofits is – how can you leverage and empower teens and preteens to be philanthropists for your organization's cause?