[slideshare id=32140899&doc=slideshareversion-140310145016-phpapp02]
Earlier this month, I presented  on a panel called "Learn, You Will" with Cindy Leonard, John Kenyon, and Andrea Berry on the topic of designing effective nonprofit technology training at the Nonprofit Technology Conference hosted by NTEN.   I've collected the resources, notes, slides, and tweets from the session in this post.
We framed the session as what to think about before, during, and after a training, using the "ADDIE" model as an organizing device.   Each of us took on a different aspect of nonprofit technology design and incorporated some interactive exercises.  One of my favorites was this terrific warm up from John Kenyon to help you when you are about to present.   Tobais Eigen captured it on video.    Autumn Patterson (@nerddotorg) took excellent notes of the key points during the session.  I did a pre-session blog post with all the annotated sources and some book recommendations.   You can find all resources materials here.
Does #14ntc give an award for best slides? I nominate #14ntctrain. @ntenorg http://t.co/XGOP0TIpXI
— Rachel Hassinger (@solidarity4just) March 15, 2014
I am particularly grateful to Cindy Leonard who compiled and consolidated our slides based on the design. Her photoshop skills were used in service of the star wars theme, including adding a red hat to Yoda.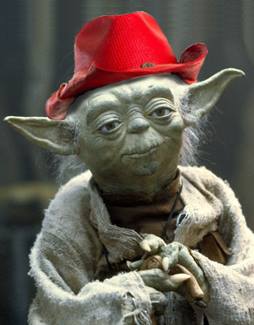 As one of my great teachers said,  "You are not good at what you do unless you are always learning and reflecting on your practice."    In that spirit, a few thoughts.
It is really hard to maintain a balance of interaction and content delivery when you have 90 minutes and four people with subject-matter expertise.  Even harder to incorporate "going meta."     The four of us didn't propose to do this panel together but since our initials proposals were all on the topic of "training" they were merged together.    This took an extensive amount of planning and design on our part, an estimated 30 hours.   We had many planning calls including one that took a whole hour to focus down the topic from our four original submissions.   We also had to create new content for the session and a unified theme, luckily Star Wars was easy to play with.    During the session, we had to pull out some tricks of the trade to adjust in real-time when we behind our plan because of too much content.
Our session was really about "train the trainer" which requires going beyond mere content delivery and do what I call "going meta."   That is you step aside from the content delivery and shine a light into the process, including what the trainer is thinking as they are facilitating.  

Think of "House of Cards" when Francis turns to the camera and shares the dialogue inside his mind.

I'm very interested in the train the trainer concept, so for my own learning I have been taking many trainings to learn new instructional techniques – hopefully gaining some empathy for being a student in a train the trainer session.

I've done this for many projects and it is a difficult design task when you are doing it as the sole trainer.  It is more difficult when you have a short amount of time and a lot of content – and coordinating with other trainers.    It worked, but it would be great to have more time.  It is the trade off between doing a conference panel VS a workshop, perhaps this topic would have much more effective a pre-conference workshop.
Our session room set up was more appropriate for a plenary sessions — a large room, theatre style chairs, and the instructors on risers above the audience.    This room set up is best for "sage on the stage" type of lecturing,  but our design was for an interactive experience.  We were also accommodating a remote audience as well.   The room setup fought with our design, but we managed to make it work.
There were some excellent "burning questions" that folks shared about nonprofit training.   One of the questions was about how to design interactive webinars which could be its own session and was something we just didn't have enough time to address in the formal session.
I got into the nonprofit technology space 20 years ago as a trainer and trainer of trainers.   I love this part of the work and was grateful to have an opportunity to do a session on this with colleagues.   It also gave me a good opportunity to take stock and pull together a selection of posts on how to do effective technology training:
Ecosystem map of capacity builders space at #penguinday pic.twitter.com/1fGVlLkH3K — Beth Kanter (@kanter) March 12, 2014

The day before our session, I was lucky enough to participate in the 10th Penguin Day where we had an amazing conversation about nonprofit technology capacity building.   What I am most excited about is that colleague, Allen Gunn "Gunner" from Aspiration offered to host a follow up conversation about nonprofit trainers – so we'll be able to continue this dialogue.   If you attended the session or are interested in connecting with other trainers and capacity builders, subscribe to the list here.