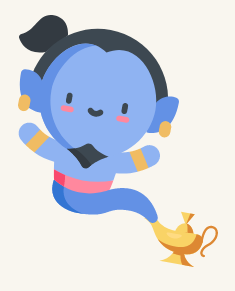 Mobile phones and screen can be distracting and overwhelming. Even worse they can be addictive. Not all technology is bad. There are apps and other technology tools that can help you create a new habit, healthier habits.
The ScreenTime Genie, a clever chat bot designed by the BJ Fogg's Behavioral Science Lab at Stanford can help grant your wish for reduced screen time. Just answer a few questions about your goals and motivation levels, the Genie will offer up some suggestions.
One solution the Genie offered me about reducing email time was to set expectations with my email signature. The solution offered me easy steps and tools – and examples like:
"To maintain focus, I check email once a day. If you truly need a urgent response, please send me a text message at 555-555-5555."
"I will be checking email intermittently and will respond as soon as I can."
"I generally check my inbox Sunday through Friday, but not Saturday."
Dr. BJ Fogg founded the Behavior Design Lab at Stanford University, where he directs research and innovation. In addition, he teaches industry innovators how to use his models and methods in Behavior Design. The purpose of his research and teaching is to help millions of people improve their lives. His newest book, "Tiny Habits: Small Changes That Change Everything" launches on December 31, 2019.
At the Nonprofit Technology Conference in March, 2020, I'm honored to be presenting a session with Meico Whitlock on apps that can help nonprofit professionals become happier and healthier. The Screen Time Genie is on the top of my list.
What are your favorite technology tools that can help your overall resilience?