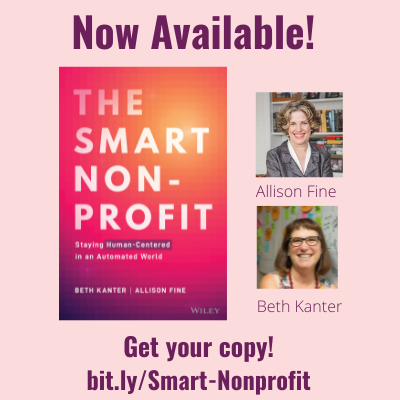 I've got some very exciting news, my new book,The Smart Nonprofit: Staying Human-Centered in an Automated World, co-authored with Allison Fine, launches on Wednesday, March 9th.
The Smart Nonprofit is a jargon-free roadmap for nonprofit staff, boards, volunteers, and funders on the ways "smart technologies" like artificial intelligence are changing social change work. Smart tech will take over the time-consuming administrative tasks that make work feel overwhelming and endless, and that can lead to staff burnout and a lack of forward progress.
And here's the most exciting part: Smart nonprofits create a "dividend of time," a gift of new time that can be spent with clients and donors, preventing crises, thinking, learning, and even dreaming!
You can purchase the book on Amazon!
The Smart Nonprofit (Hardcover)
The Smart Nonprofit (Kindle)
Allison Fine and I will be presenting at two FREE online book talks, please join us
Many of you have been loyal readers of my blog for many years, I hope you will consider sharing a message about The Smart Nonprofit on Facebook, LinkedIn, Twitter or email asking your colleagues to buy the book this week. Here are some messages
Sample messages:
The Smart Nonprofit by Beth Kanter and Allison Fine gives readers everything they need to know to leverage AI and other automated technology to its fullest (and safest) potential to enable nonprofit leaders to do what they do best: impact the world. I recommend you buy it today!
The Smart Nonprofit by Beth Kanter and Allison Fine is a splendid, timely book with important insights into our near future. Written in everyday, accessible language, this book enables people to listen more, relate more, build, plan, and dream together more – to be, in fact, more human. I recommend you buy it today!
The Smart Nonprofit by Beth Kanter and Allison Fine vital and timely book. This is a must-read for smart leaders who plan to ensure their organizations remain both human-centered and impactful within this fluid, innovative era of AI and automation. I recommend you buy it today!
We are thrilled with the initial reception for the book. Below are a few links to different articles we've written and interviews
On launch day on March 9th, I'll share a very special video and more information about free book events in March, April, May, and June.
Please contact me if you are interested in hosting a book event or having us speak at your event.
And if you'd like to buy a copy yourself, well, I would be grateful for that, too! Thanks!