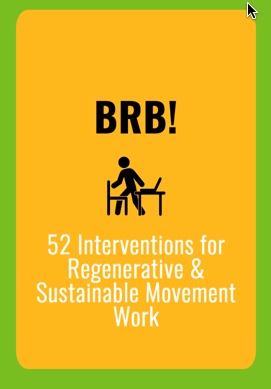 While writing The Happy Healthy Nonprofit: Strategies for Impact without Burnout in 2015, we did a scan of what was available in the nonprofit.  Ever since, I've been keeping an eye out for new resources for nonprofit professionals about avoiding burnout and self-care.
One best practice is to take breaks during throughout your work day, even a mini-break will help reboot your focus and energy.
What do you do during a mini-break?  Well, doing nothing but deep breathing is one option, but there are many more ways.  One caveat according to research is that for the break to be restorative, it needs to help the person mentally detach from work and boost positive emotions. Here are some ways to weave self-care into your workday by taking a break:
Be Right Back (BRB)
BRB! is a digital card deck from the Center for Storybased Strategy, an organization that offers tools, training, and strategy support to organizations and movements working for justice, ecological sanity and transformative social change. There are 52 different ideas on how to take a restorative break from the hard work of social change. If you are feeling stressed, click on a card and do a mini-break activity.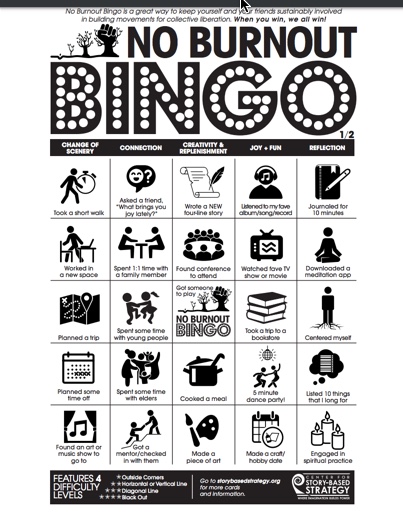 No Burnout Bingo
No Burnout Bingo – This is a fun icebreaker also developed by the Center for Storybased Strategy.   You can download a couple of Bingo Cards and use the exercise as an icebreaker as well as open up the conversation about self-care.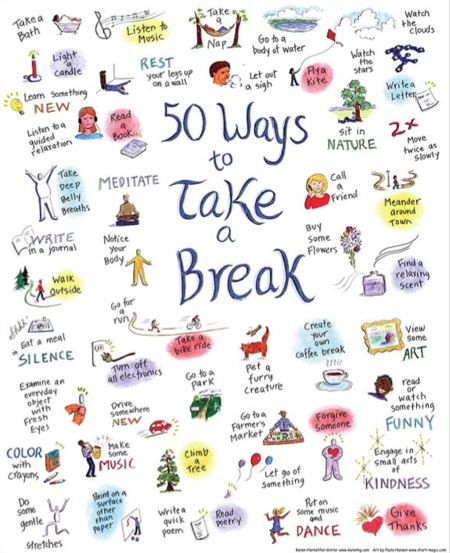 Infographic: 50 Ways To Take A Break
50 Ways To Take A Break: I'm a visual learner and I always appreciate seeing infographics of visually summarized information.  This infographic gives you a bunch of different ideas about how to take a break. This infographic is by Karen Horneffer-Ginter and is a free digital download or you can purchase a hard copy of the poster.  Why not print it out and keep on your desk as  reminder?
What do you do for a break during the work day to keep your energy and focus?