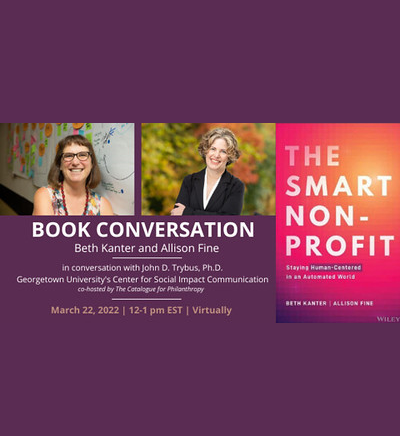 It has been whirlwind two weeks since our book launched on March 9th. Here's a few highlights from the past two weeks, there are more events over the coming weeks, so don't feel any FOMO!
Highlights include:
We had a glowing book review by Philanthropy News Digest
#1 and #2 rankings continuously on Amazon in for nonprofit books and innovation
Interviewed by Julia Campbell on her Nonprofit Nation Podcast
Free launch event hosted by the Chronicle of Philanthropy with 835 participants
TechSoup Event "Automation for Good" article, slides, and examples of how small nonprofit can use automation
And today, very excited to share a new article we co-authored for the Harvard Business Review on using Smart Tech to make work more human.
The main point of this article is to get us out of the all-or-nothing trap of automation. It is not about bots or people, but bots and people. How to get the best out of both and, as a result, re-make work as something better than the always on, 24/7 grind it has become. Most jobs will have some parts of it automated, freeing up those people to do more human things like build stronger relationships and solve complex problems.
We are also facing a nonprofit workforce crisis with an increase of demand for services and people leaving their jobs due unrealistic workloads & toxic work environments that lead to burnout. Burnout rates were an issue in the nonprofit sector (why I wrote the Happy Healthy Nonprofit in 2016) but now they are skyrocketing. By automating grunt work and freeing up time for staff, there is an opportunity for a kinder and vibrant workplace culture.
But this will only happen, when nonprofits use the technology thoughtfully, carefully, strategically and ethically. That's why we wrote our book.
You can read the article here.
The Smart Nonprofit: Staying Human-Centered in an Automated Age launch activities continue this week with a FREE event hosted by Georgetown University's Center for Social Impact Communication on March 22 from 12-1 pm ET. Register for this FREE this virtual event.
If you haven't had a chance to order The Smart Nonprofit, today would be a great day to do that. Or buy it for a friend!