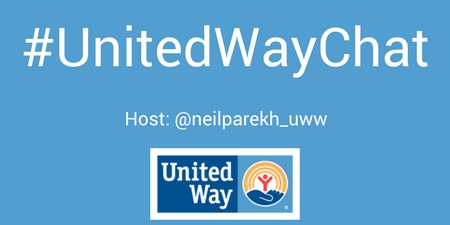 Breaking through the Noise on Social Media: How to run a Twitter Chat That Spotlights Your Nonprofit's Impact – guest post by Neil Parekh
Every second, on average, around 6,000 tweets are posted to Twitter.
How do you break through the noise on Twitter to highlight your nonprofit's impact and gain visibility for the good work your organization is doing? Throw a party – with a purpose.
No, not a cocktail party…a Twitter party. More specifically, a "Twitter Chat." In many ways, a Twitter Chat is like a party. You invite guests to a specific place at a specific time, introduce them to each other, encourage conversation around a specific topic (although there might be tangents) and hope people have a good time. If you're lucky, your guests will leave having learned something.
For the past 20 years, United Ways across the U.S. have managed and supported their local 2-1-1, a vital service that connects callers to a range of human and social services.
2-1-1 is free, confidential and available 24-7 to 94% of the U.S. population and most of Canada. Every day, thousands of people call, text, and web chat with highly trained 2-1-1 specialists to find food, health care, financial services, stable housing, transportation assistance, disaster resources, and more. (Click here to learn more.)
As part of a larger effort to raise awareness about 2-1-1, in advance of 2-1-1 Day (on February 11, get it?), we decided to host a Twitter Chat using #UnitedWayChat on Wednesday, February 7.
Background
In 2017, we initiated #UnitedWayChat, a quarterly Twitter Chat focused on United Way's priorities of education, financial stability and health.
Our goal was to help United Ways (almost 1,800 in more than 40 countries) share the work they're doing as they fight for the health, education and financial stability of every person in every community.
Ten Tips for Organizing Twitter Chats
Goal -> Format
Our goal was broad-based participation without singling out a specific voice, so we chose an open model in which all participants are encouraged participate. If your goal is to convey specific information, then feature an expert on the Twitter Chat. The expert would answer the questions first and then interact with the participants.
Practice First
Participate in several Twitter Chats to figure out how you'd manage one. That helped me to understand the ideal time between questions (5 mins.), how to answer questions while interacting with participants, and how to keep the questions broad to ensure inclusivity.
Take A Class
Learn from Madalyn Sklar, an expert on Twitter Chats. In addition to a weekly #TwitterSmarter Chat, she also has a very useful online course in managing Twitter Chats.
Identify a Hashtag
Determine the hashtag you want to use. According to social media guru Sree Sreenivasan, it should be short, unique and memorable. #UnitedWayChat worked better for our Twitter Chat, versus our general-purpose hashtag #LiveUnited.
Publish Your Questions in Advance
Develop your list of questions in advance – eight is a good number – and share them with likely participants.  Use Canva to create a graphic for each of the questions tweeted out, to capture attention.  On the day of the Twitter Chat, schedule each of the questions in advance using a free version of Hootsuite.  When the Chat starts, I publish a post at the start time (a "get to know you tweet") and another five minutes later (a reminder on best practices).
Identify What Works
Identify Twitter Chat best practices, and share them. Not everyone is comfortable with Twitter, let alone fast-moving Twitter Chats. Click here for the 10 tips we use.
Another best practice is to include a scheduled break halfway through, to give people a chance to catch up and check mentions. It's one of the most appreciated five minutes in #UnitedWayChat, aside from the GIF wars! We also share two tweets at the end, thanking participants and reminding them of the next Chat date.
Promote, Promote, Promote
Build out a promotion plan. Include the hashtag in your Twitter bio. Reference the date, time and hashtag in your cover picture. Use your pinned tweet, as well.
Create a DM Group
If you have a group of likely participants (>30), create a Twitter DM group to share updates and talk strategy.
It's A Group Exercise
Invite colleagues who are active on social media or subject matter experts to join the Twitter Chat. At United Way, we sit in one room with our laptops, working as a team to monitor the conversation, flag interesting tweets and stay on top of the Chat. During the Chat, I use the Twitter app on my desktop with five open tabs: One for my account, so I can watch the scheduled tweets go out (trust but verify, right?); one for the hashtag; one for my mentions; one for my DMs; and a final one for general use.
Crunch the Numbers
Use TweetReach or a similar tool to analyze the reach of your hashtag, get insights into top participants and generate a transcript. (If you're using the free version, you can pay $20 for a complete report.)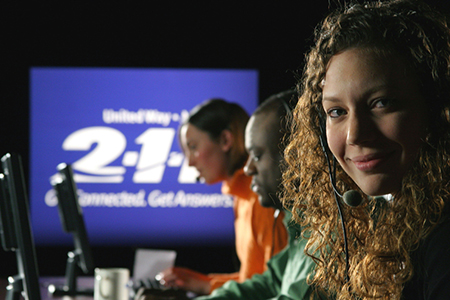 Trending / Results
Although we don't measure our success by whether or not our hashtag is a trending topic, it certainly is a badge of honor. However, there is a downside to trending. Once your hashtag starts trending, spammers will include your hashtag in all sorts of tweets that are unrelated to your Twitter Chat. In our experience, spam hasn't shown up until after the Twitter Chat was over. It didn't affect the conversation, but it has made curating the Chat afterwards a little difficult.
Our #UnitedWayChat on 2-1-1 was, in the end, a huge success. 168 participants shared 1,036 tweets and generated more than 5 million impressions of #UnitedWayChat, which was a trending topic nationally.
Equally important, Rachel Krausman, Senior Director of 2-1-1 called the Twitter Chat "amazing." In addition to raising awareness about 2-1-1, she also said that she was able to "collect more client stories, media stories, videos and images" in one hour than she has been able to get in the past year. "I can't tell you how big of a Return on Investment this was," she added.
We broke through the noise AND spotlighted our organization's impact. #UnitedWayChatForTheWin.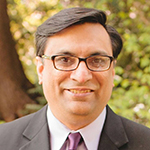 Neil Parekh works on the communications team at United Way Worldwide. His focus is supporting 14,000 staff working at almost 1800 United Ways in more than 40 countries.