Happy Valentine's Day!   Valentine's Day is a big day for florists, jewelers, restaurants, candy makers, and nonprofit techies too!    Here's a few curated examples.
Nerdy Valentine's from Scoop.It: The content curation platform, Scoop.it, came up with funny "nerdy" valentine's for its content curation community.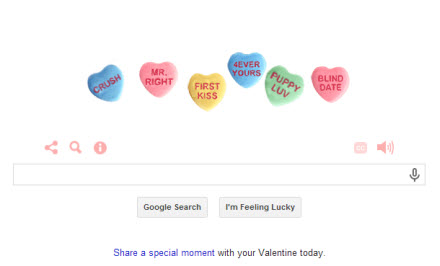 Google's Love Stories: Google has been sharing "doodles" – fun variations on its logo since 1998.   It's first Valentine's Day logo appeared in 2000, looks quite primitive compared to today's this American Life style animated and audio doodle.  Visit the Doodle Museum to view the history of doodles.
Generosity Day: This got started in 2011 by Sasha Dichter, Scott Case, Ellen McGirt, and Katya Andresen. The idea was simple – don't spend money, but perform an act of generosity for someone on Valentine's Day.  Here's more.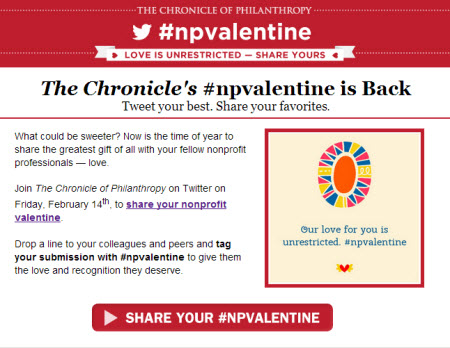 #NPValentine: The Chronicle of Philanthropy is running a #NPvalentine hashtag love fest today. They also have a gallery of their favorite nonprofit Valentine's Day wishes from nonprofits on Facebook. Here's a few 140 character Valentine's from nonprofits.
Oh how do we love #philanthropy? Let us chronicle the ways together. #npvalentine
— Patterson Foundation (@ThePattersonFdn) February 14, 2014
#nonprofits Be "mined" – Data mined that is…posting financial info on your website shows a commitment to transparency #npvalentine — CouncilofNonprofits (@buildnpcapacity) February 14, 2014

Fundraising Yoda: One of my favorite nonprofit Twitter spoofs is sharing lots of love today – from donor love to "Fundraising Force Follow Friday"
Who is your supreme Valentine's #FFFF for Fundraising Force Follow Friday? Choose wisely, friends. Align again for years, this day will not.
— Yoda, CFRJ (@FundraisingYoda) February 14, 2014

Nonprofit Valentine's Day Campaigns: Looks like lots of nonprofits are using Valentine's Day as the hook for a campaign – whether it be donor appreciation, fundraising, or raising awareness.   The Humane Society and many animal welfare organization's are using the hashtag #myfurryvalentine to encourage their supporters to share their valentine's to their pets.

DoSomething on SnapChat:   Teens love Snapchat and DoSomething.org is experimenting there.  To encourage young people to sign up for Love Letters, a campaign that encourages teens to make Valentine's Day cards for homebound seniors,  they had people vote for the best Valentines.

Kerri Karvetski has many awesome pinboards that collect examples of Nonprofit Campaigns for different holidays.  Here's the 2014 Valentine's Day Board.
Have a great Valentine's Day!