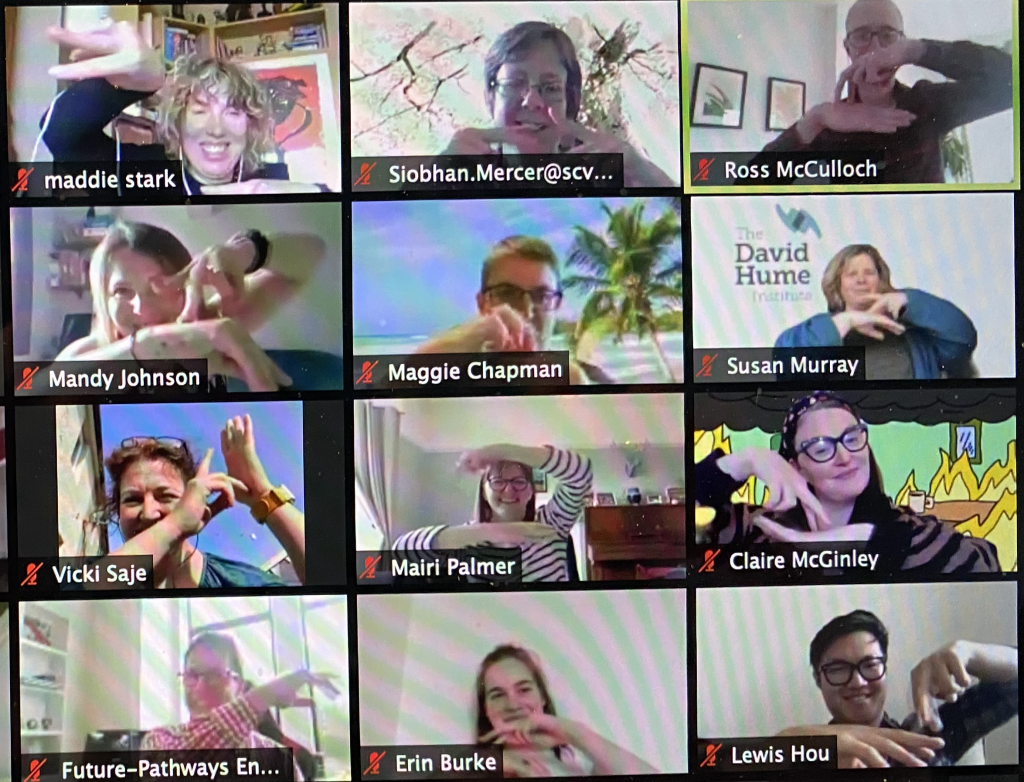 It is uncertain exactly when we will be able to work together in our offices, although it is clear that our work will involve primarily digital connections with others for a while longer While the cloud of the global health and financial crisis are weighing on us, the technology we are using as our life line is prompting a new ailment – exhaustion. Now more than ever we must create a robust workplace culture and stronger relationships to retain our humanness.
Why Remote Work Is Exhausting
We have shifted to digital-mediated interactions for almost everything in our lives. In the virtual workplace, being on video conference meetings and communicating via online collaboration platforms takes more energy than working face-to-face. Virtual work can easily zap our energy and drain our emotions bringing on a type of malaise called "Virtual or Zoom Fatigue."
Experts point to several reasons why we are feeling a loss of vitality, productivity, and wellbeing in our virtual workplaces:
Five Tips to Make Virtual Work Less Exhausting
If your virtual meetings ignore the relational and human aspects, work can feel transactional, boring and lead to disengagement and fatigue. These type of interactions can improve your team's engagement and general morale, leading to improved productivity.
Incorporate Energizers In Your Meetings
Fatigue sets in when we are sitting and listening, not interacting or moving. In face-to-face meetings, you can feel the energy in the room drop when people get tired by watching their body language or engagement falls off. It is harder to judge on a video call, so establish rituals on doing mini meeting energizers (brief body or playful breaks (no more than 3 minutes) that help shift the energy.
One of my go to energizers on zoom is "Catch the Stretch," where you encourage people to stretch and follow one person's stretch who can call another person for everyone to copy. It is a fun activity that gets a few laughs, people moving, and replenishes energy.
My absolute favorite, which comes from Katy Grennier, DSIL Global, is the dance off that can be done on a video conference platform. You have people raise a hand and flatten it in view of the screen. That is the dance floor. Then the other hand because the dancer on the dance floor using two fingers. Adding some music makes it more fun. Here's a list of dance music. (Everybody Dance Now or These Boots Were Made for Walking are tunes that I have used recently that made everyone dance). (see the photo at the top)
Need so more ideas for energizers, check out this list from Dancing With Markers.
Simulate the Office Water Cooler or Open Door Policy
In our offices, we have many opportunities for serendipitous connections for informal communication both non-work and work-related. These might happen while walking the halls, in the break room or by the water cooler. In fact, it is called "The Water Cooler Effect." This where new ideas may be hatched or cross-department pollination occurs.
Incorporate water cooler conversations into your virtual collaboration space. If you are using Slack, you could set up a channel called the "Water Cooler" for this. (Include a photograph of your office common space or actual water color pinned to the top of the channel). Alternately, If you are using Zoom, set up a personal room that is open 24/7 for people to drop into.
Some teams also establish "drop in or open door times," the real world equivalent of popping your head into a colleague's office to ask a quick question. These interactions could be distracting or annoying if you don't establish norms. One way to handle it is to set up "open door" times (on Slack you can customize the slack status message). These can be useful for 1:1 check-ins.
The pandemic has inspire a new breed of online collaboration apps that facilitate drop in video chatting for serendipitous conversations that your team might want to test.
Meeting Check-In or Check-Out Rituals As Part of Standing Meeting
The easiest way to integrate team building activities is to create a ritual of meeting check-ins or check-outs. These are typically brief (10-15 minutes) simple, low risk activities that are not related to the work at hand, but an opportunity for people to get to know each other as humans. These are not therapy sessions, but a chance to let people express how they are feeling or let off steam with some fun.
Here is a blog post that includes many ideas for check-ins, relationship building activities for teams that can used in meetings. You can think of these activities as appetizers or dessert. If an appetizer, you set aside 10-15 minutes at the beginning to help ease into the meeting work. Or it could be done as the dessert, leaving the last 10-15 minutes of the meeting for the activity.
Keep in mind not that everyone may want to participate in these types of activities, so you can also institute the I pass protocol or if done at the end of the meeting people who don't want to participate can leave early. And, if you have a lot of introverts on your team, adapt the activities so they are non-verbal.
Dedicated Team Building Games
This would be a regular team meeting that is not focused on a specific work deliverable but on building trust, relationships, and social cohesion. If you decide to do a dedicated meeting, you might schedule a 60-90 minute meeting every week or every other week depending on morale. The team building games are all simple, even fun activities, and they will help boost your team's engagement if designed well.
One of my favorite sources for these types of virtual activities comes from Hassan Osman's The Couch Manager's Blog. He offers three excellent activities to get started in this post. The one I like the best is called "Two Pictures" where everyone shares 2 pictures about anything unrelated to work and spends some time sharing it with the team. Want more ideas? Check out the "Ultimate List of Team Building Activities" and 54 Fund Virtual Team Building Activities.
Virtual Meals, Coffee and Walks Together
Before the pandemic, many nonprofits encouraged and supported informal meals or coffee together in small groups or pairs. If you are using Slack you can use a randomizer app that selects a small group of people to each lunch together once a week. You could offer a modest budget and have each person order takeout/delivery. One organization does this pizza! There is also a plugin for Slack called the "Donut Bot" that randomly matches pairs for virtual coffee.
If your team has done walking meetings before the pandemic or wants to give it a try, you can still walk together at a distance using zoom or face-to-face time. The walk could incorporate unstructured conversation or could be focused on a work topic. Essentially, everyone loads up zoom or a messenger group on their mobile phones, and then walks around their neighborhood. Everyone gets a triple bonus – fresh air and exercise, camaraderie, and new ideas (walking meetings are known to be valuable for improving creativity)
Virtual fatigue is likely to be with as long as we have to work from home and function as a virtual distributed workforce. These are few tips to help your nonprofit team be more energetic, but also productive.

What ways has your nonprofit overcome virtual fatigue?