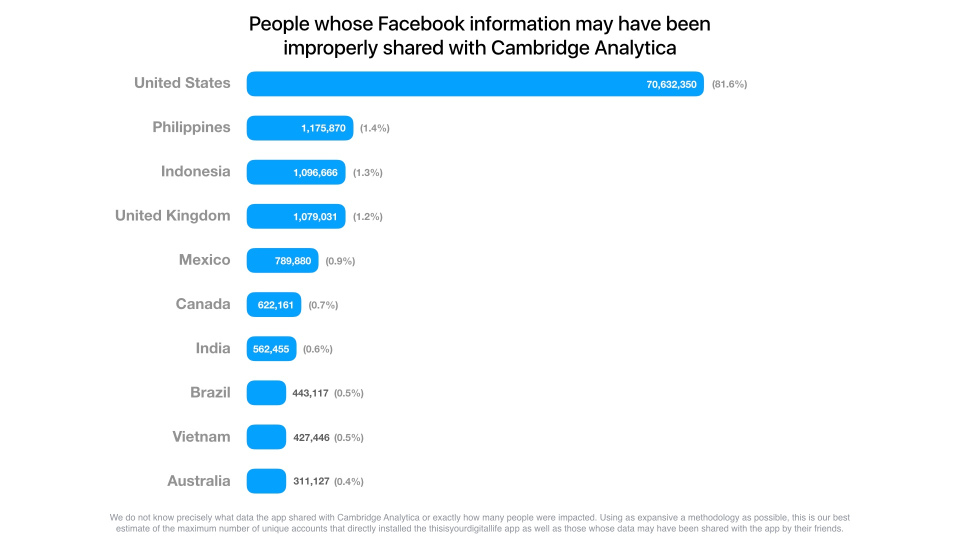 The Facebook data scandal (reports that Cambridge Analytica, a firm used by the Trump 2016 presidential campaign, scraped Facebook data for millions of users without their knowledge or permission) that erupted in mid-March and prompted user outrage, including a hashtag #deletefacebook, continues to grow. Yesterday, Facebook dropped another bomb: It now believes that information of up to 87 million members may have been "improperly shared"  with Cambridge Analytica. [* nearly 71 million U.S. users are included in that number]
The new number is much higher than previous estimates of around 50 million. The revelation was a footnote in a blog post from Facebook's CTO and also described some additional steps that Facebook is taking to better protect users' information going forward.  Yesterday, Zuckerberg did a call with the media saying the main goal going forward is to get all of Facebook's systems under control, keep users safe and ensure that the site isn't being used to undermine democracies all over the globe.  He also mentioned that on Monday, users whose data was compromised will be notified in the newsfeed. This could prompt even more outrage ahead of Zuckerberg's appearing before congress next week.
How will users react?  Will the #deletefacebook movement swell with millions of people deleting their accounts, leaving Facebook an empty ghost town? Will it become the MySpace of 2018?  Hard to predict, however bear in mind the following:
This analysis, "Is Facebook Doomed?"  by co-founder of LikeFolio, says that their data on the daily account deletions shows that people quitting Facebook have doubled their previous high, but the #deletefacebook movement has petered out and the indicates (for now) that it there was not wholesale user revolt.  Also, there was no impact on Instagram (owned by Facebook) as a result of this scandal.
While I have seen a number of friends say they were going to delete their accounts, some did and some are already back on Facebook, quitting Facebook is psychologically difficult.  Apart from our "addiction," many year have invested so much time and sharing content that it is hard to cut the cord.  Here's an analysis of the reasons why quitting is difficult.
Given this all might change after users get a direct notification that their personal data was used by Cambridge Analytica – this will cause more outrage and probably regulation. The optimists in some of us hope that Facebook might be able to fix the problem.
What does this mean for nonprofit digital strategy?  As much as many of us would like to use this scandal as an excuse to quit social media or maybe stop investing time and resources into Facebook, I think that might not be the best approach.    The important points is that your digital strategy has to be more than Facebook -and that you need to be strategic and consistent.
Measurable objectives, well-defined target audience, and personas
Content: Storytelling that creates community and meaningful interaction and engagement: Focus on quality, not quantity
Champions: More important than ever to leverage your supporters' networks as well as "insiders," but train them on how to protect their privacy and personal data.
Channels: Don't abandon other social media platforms, but you'll need to invest in the right ones for your audience and capacity.
Channels: Don't build your house on rented land. Make sure you make the best use of "owned": web site and email newsletters
Channels: Facebook – Video, especially Live is top performing content to maximize organic and paid reach. Consider using groups in conjunction w/ your Brand Page – link and promote. Paid advertising budget, can be small
Small pilots with the next wave of disruptive technologies – the age of automation: messaging, and bots. Messenger integration on FB easy place to start
How is your organization reacting to the latest Facebook/data scandal?  Have you changed your digital strategy?