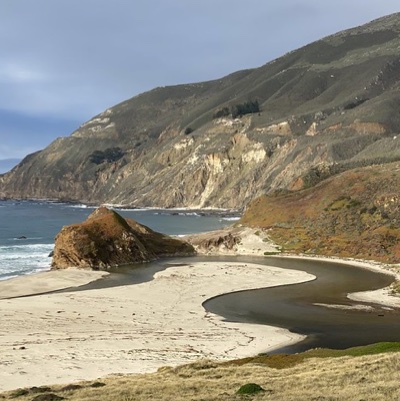 Rituals are intentional small, tangible acts done routinely and carry meaning. Our family has several New Year's rituals, including a nature hike. This year we hiked by the Pacific Ocean in Big Sur. (Pictured above)
Rituals can also be used by professionals to boost personal productivity because rituals capitalize on our brains' ability to direct our behavior on autopilot, allowing us to reach our goals even when we are distracted or preoccupied with other things. (In fact, there is a lab at Stanford that studies workplace rituals and a book, "Rituals at Work," devoted to the topic)
For over twenty-five years, I do several rituals that help me prepare for the year ahead because they allow me to gain focus and clarity. Here they are:
Rituals
Year in Review
Here's what I learned from looking over my 2021 professional accomplishments:
My Three Themes:
This year I've selected the following three words to guide me into 2022.
Flexibility: The pandemic is teaching all of us about the benefits of flexible work – being able to work from anywhere whether in an office or from home. But flexibility is also about being adaptive and having the freedom to select your people, priorities, and purpose. With new virus variants popping up and the uncertainty we all face, it requires being reflective and the ability to pivot and adapt. I've taught leadership workshops on being adaptive, but I want to revisit this concept for 2022 and go deeper.
Flourishing: Flourishing is about positive emotions and optimal health, both physical and mental. Flourishing requires spaciousness in your work and life, and letting go of hyper busyness and embracing reflection for continuous improvement. Some have called this the slow work movement and it can help you flourish.
Joyful: If I were to continue with another "F" word, it would be fun or play. But I like joyful which means experiencing or causing happiness for yourself or others. Fun doesn't mean goofing off or not working hard, but laughing and enjoyment that can be energizing. Adam Grant said it well, "Having fun isn't an enemy of efficiency. It's fuel for finding flow. Play isn't a reward for finally making it through your to-do list. It *belongs* on your to-do list." One tool that I'm exploring is "Action for Happiness," that helps incorporate joy into your daily life.
When I look back on 2021, while the pandemic still creates a lot of uncertainty, I've discovered that using all the techniques and approaches I share in my trainings and books, I'm able to keep optimistic. What are your hopes and dreams for 2022?