Pokemon Go, the latest installment in the best-selling Pokémon video game series, launched as a smartphone app using augmented reality. It became an overnight viral sensation and cultural phenomena.  Perhaps its appeal is an escape from all the bad things that are happening the world right now.
Rather than chaining game players to their computer screens inside their houses, it sends players roaming their neighborhoods and communities to play the game.  On the plus side, they are avoiding death by sitting. It has brought augmented reality to a mainstream audience, with millions downloading the app and playing.
I was out hiking in the Santa Cruz Mountains this weekend, sans wifi, so I was not paying attention to it until I got home and saw  mentions of it in my Facebook feed from technology observers like Jeremiah Owyang and Robert Scoble.  And early on Monday morning, I started getting queries from colleagues asking for recommendations on a Pokemon Go Nonprofit Brand strategy!

Most of the nonprofits are using it as a form of clever newsjacking — discovering that the nonprofit's office or program location is a Pokemon stop and have snapped a photo for social media posting.  Others are using it to lure visitors to their location.  Museums, gardens, and parks have jumped on it.  Colleague Stephanie Rudat found this example from the National Mall and Memorial Parks.

I saw similar posts on Facebook brand pages of 92nd Street Y that was hosting the annual Giving Tuesday Summit and  The United Way of Central Ohio that upped its organic reach,  and on Twitter from Nonprofits First.
There's a #PokemonGym right next door to Nonprofits First. Come train and say 'Hi' #PokemonGO pic.twitter.com/w00HNg1vtw

— Nonprofits First (@NonprofitsFirst) July 11, 2016

Centre Foundation, also a Pokemon stop, is adding this to its messaging around several summer programs geared for high school students.
Here's an account of how a LGBTQ activist is using the app – more to come?
A Few Concerns
As a parent of two teens, I was curious if there were any potential safety issues to discuss with them or if they had downloaded or wanted to play.   Safety concerns for younger children, especially unsupervised have reported in the media.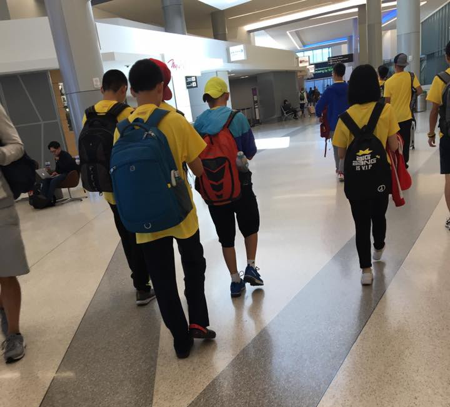 After reading the articles while waiting to board my plane in SFO and noticing groups of young people walking around in groups using the Go Pokemon app in the airport, I decided to download the app and see what all the hype was about.  This primer helped.
My first attempt to sign up was greeted with "Our servers are overwhelmed, Try Again Later" message.  I was finally able to set up an account.  There were two options: use my google account or go to the web site and set up an account.  The web site also had a message that they could not set up any accounts on the web site due to being overwhelmed.   So I used my google account.
I didn't fully realize the privacy implications.  I was giving access to all my location data via my phone but more of a concern was that app has complete access to my google account which was a bigger concern.   After catching my first Pokemon in the airport, I decided to revoke access to my Google account and wait to set up an account on the web site. (Update:  Report that the Google login was a mistake and they have now changed it)
While the virtual success of Pokemon Go might just be a fad,  it is the beginning of mainstreaming of augmented reality and time to think about the implications for the real world.   Here's a good analysis  by Ralph Koster that Robert Scoble point out.
Going beyond Pokemon Go, what are the hopes and challenges of integrating social good into these VR/AR apps?