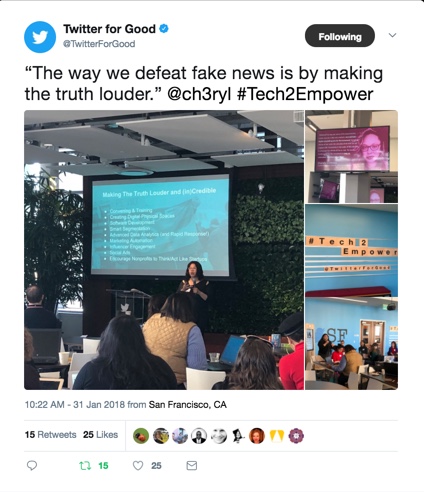 Earlier this week, I had the honor of kicking off the first day of a week of workshops for 50 women's right leaders from the United States through a program called "Tech2EmpowerUSA." The goal of the program is to connect these leaders with technology experts to create a connected movement.
All week, these women had the opportunity to visit a different technology company and get training on a variety of topics.  On Wednesday, they were hosted at Twitter Headquarters for a training.  My colleague, Cheryl Contee, kicked of the morning with an inspiring overview of the power of digital and social media for social good.
I loved her quote, shared by Twitter for Good: ""The way we defeat fake news is by making the truth louder."
While social media and connectivity has only made the underbelly of extremes in our society more visible and spreadable, we can't abandon the platforms.  As Cheryl says, we have to make the truth louder and  amplify the good work of charities and contributions to civil society.   We need to keep focused on that vision.
That's why I just love this campaign from the UK, from Lightful, called #ReclaimSocial. Won't you join me helping to spread the good and make truth louder?
You can find out ways to participate here.