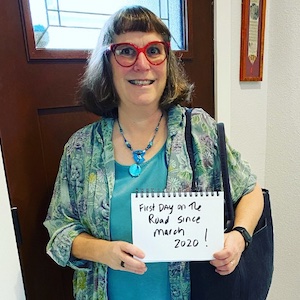 Rituals are intentional small, tangible acts done routinely and carry meaning.  Our family has several New Year's rituals, including a nature hike. Unfortunately, the atmospheric river dumping a lot of much needed rain prevented us from enjoying a hike.

Rituals can also be used by professionals to boost personal productivity because rituals capitalize on our brains' ability to direct our behavior on autopilot, allowing us to reach our goals even when we are distracted or preoccupied with other things. (In fact, there is a lab at Stanford that studies workplace rituals and a book, "Rituals at Work," devoted to the topic)

For over twenty-five years, I have implemented a number of rituals that help me prepare for the year ahead. :

Rituals
Year in Review
Here's what I learned from looking over my 2022  professional accomplishments:
The Smart Nonprofit:  Allison Fine and I published and launched our second book together, The Smart Nonprofit: Staying Human-Centered in Age of Automation.  We gave over 50 book talks, fireside chats, webinars, and workshops both in-person and online.  We also published a second article in the Harvard Business Review about keeping work human-centered.
Board Service:  I've been part of the NTEN community since its inception and the last six as a board member.  I finished my last board meeting in early 2022. In 2021, I was honored and very surprised to be awarded the NTEN Nonprofit Technology Lifetime Achievement Award.  I continue to serve on the advisory board of Leadership Learning Community and Wake.
Giving Circle:  I helped co-found and am co-leading the San Jose Business Women for Good Giving Circle.  I learned a lot about Giving Circles from Philanthropy Together and am presently serving on the advisory committee for the WeGive Summit in May.
Workplace Wellbeing:   I published "The Happy Healthy Nonprofit: Strategies for Impact without Burnout," with co-author Aliza Sherman a few years ago. The book was well received and was #1 on Amazon's Nonprofit Books many times. The stress of the pandemic prompted the biggest demand for workshops and speaking engagements, even though these engagements were online. I shifted a lot of my content and advice to focus on creating a life-work balance when you work remotely and how to create a more connected virtual team as well as digital wellness.
Remote and Hybrid Facilitation Workshops: During the past few years, interest soared in learning how to facilitate better virtual meetings has soared.  I have continued to teach facilitation and meeting design workshops and coaching for online and hybrid meetings
Training & Facilitation:  I have maintained an active schedule of leading workshops, facilitating retreats, and presenting. While the majority of work was done virtually, I did venture back into in-person events.  For facilitation projects, I am working on projects with the Gates Foundation Greater Giving Summit and Google.Org. I also facilitated several peer learning groups, including Teaching Tuesdays for trainers with John Kenyon for the Parents Center staff, and a peer learning group on workplace wellbeing for the Resilience Initiative. I have continued my work as senior advisor to Lightful, a social media management tool for charities based in London.  
Writing:  I've been writing Beth's blog since 2004.  The past few years I have not published as much as I have in the early years.  Now that I have left Twitter (highlighted in this Wall Street Journal article), I really want to get back to maintaining a personal blog.  
My Three Themes:

This year I've selected the following three words to guide me into 2023:  
Learning:  I've been working in nonprofits for many decades and the thing that keeps me going is always learning something new.  I started my blog almost 20 years ago because it was a learning journal – writing helps me process.  I hope to get back to regularly blogging. 
Simplicity:  I am trying to keep my life and work simple and not overthink or over complicate. A big area of simplicity is avoiding overscheduling and trying to do too much.
 
Joyfulness: This was my theme in 2022, but I'm repeating it.  Joyful means experiencing or causing happiness for yourself or others. Fun doesn't mean goofing off or not working hard, but laughing and enjoyment that can be energizing. Adam Grant said it well, "Having fun isn't an enemy of efficiency. It's fuel for finding flow. Play isn't a reward for finally making it through your to-do list. It *belongs* on your to-do list."  
The best part of these rituals is that looking back shows you what you have accomplished and helps you begin a new year with renewed commitment to personal and professional growth. What are you making a new or renewed commitment to do?